Ron DeSantis Explodes When Asked About His Role in Guantánamo Torture
One of the supposed 2024 front-runners can't seem to handle questions from the media.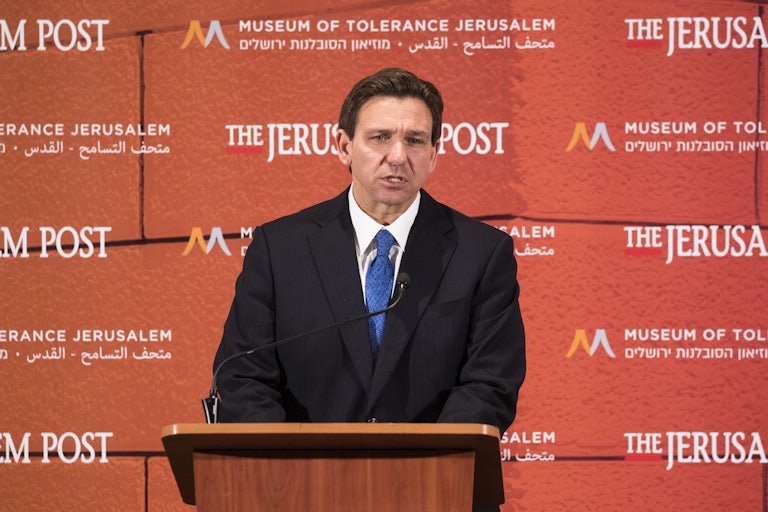 Amir Levy/Getty Images
Ron DeSantis is showing an increasingly poor ability to handle the spotlight.
The Florida governor, who is expected to announce a presidential campaign, served as a lawyer at the notorious Guantánamo Bay prison in 2006. During a press conference Thursday at the Museum of Tolerance in Jerusalem, a reporter asked him about claims by a former detainee that DeSantis had attended his force-feeding session. DeSantis snapped immediately.
"No, no, all that's BS," DeSantis said. "No, totally, totally BS."
"How would they know me?" he demanded, his voice rising. "Do you honestly believe that's credible?"
DeSantis arrived at Guantánamo in the midst of mass hunger strikes among detainees protesting their treatment at the prison. DeSantis arrived as part of a team of military lawyers to help solve the situation.
The Florida governor himself admitted in a 2018 interview that he was one of the people who suggested force-feeding prisoners, something that many human rights organizations have decried as torture. DeSantis was also sent to Guantánamo the same year that three inmates died, the worst loss of life in the prison's history. The official report was that the three men died by suicide, but many people, including a former Guantánamo guard, dispute that finding.

Two former detainees have called out DeSantis specifically for his role in the unbearable situation at Guantánamo. One, Abu Sarrah Ahmed Abdel Aziz, told The Washington Post he is "100 percent" certain he spoke to DeSantis multiple times. Abdel Aziz spoke fluent English and was trying to report mistreatment claims to JAG officers.
Abdel Aziz said he didn't know DeSantis's name at the time, but the then JAG promised to look into the complaints. But conditions got worse instead.
Another former inmate, Mansoor Adayfi, said he saw a photo of DeSantis on Twitter in 2021 and recognized the governor immediately. "It was a face I could never forget. I had seen that face for the first time in Guantanamo, in 2006—one of the camp's darkest years when the authorities started violently breaking hunger strikes and three of my brothers were found dead in their cages," Adayfi wrote in an essay for Al Jazeera.
Adayfi said he shared a photo of DeSantis with several other former inmates, and they all recognized him from Guantánamo. Adayfi vividly remembers DeSantis watching from behind a fence as he was force-fed, "smiling and laughing with other officers as I screamed in pain."
DeSantis has largely avoided talking about his time at Guantánamo, but now that the national spotlight is on him, it's going to keep coming up. And so far, it looks like he can't handle that scrutiny.