Trump to Jack Smith: Indicting Me Will "Destroy Our Country"
Trump is expected to face his third indictment any minute now, and he is not handling it well.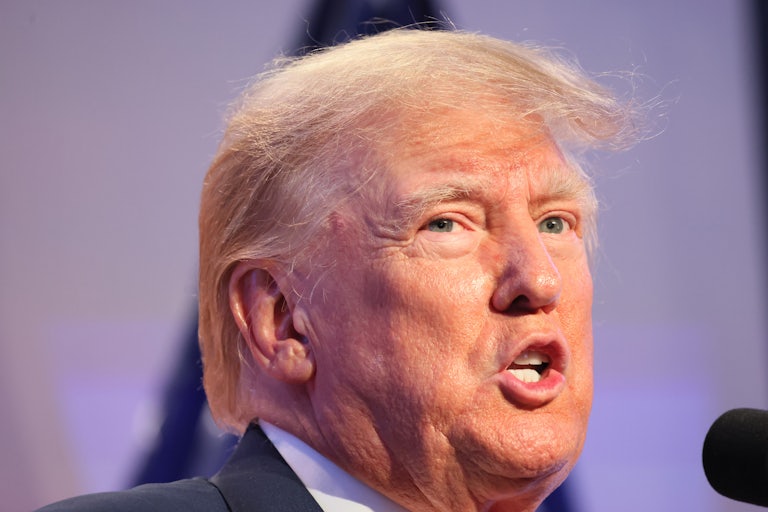 Michael M. Santiago/Getty Images
Donald Trump had a dangerous warning Thursday for special counsel Jack Smith, who is investigating him for his role in trying to overturn the 2020 election: Another indictment would "destroy" the United States.
Smith has already indicted the twice-impeached former president for mishandling classified documents. Trump's lawyers met with Smith's team earlier Thursday and were reportedly told to expect an indictment.
Trump has not been handling all of the indictment talk well (to put it mildly), and his post on Truth Social was no different.

"My attorneys had a productive meeting with the DOJ this morning, explaining in detail that I did nothing wrong, was advised by many lawyers, and that an Indictment of me would only further destroy our Country," he wrote.

"No indication of notice was given during the meeting—Do not trust the Fake News on anything!" he added, disputing reports that his legal team was warned an indictment was coming.
In addition to Smith's charges against him, Trump has been charged with 34 counts of business fraud in New York relating to hush-money payments made during the 2016 election, has been found liable for sexual abuse and defamation, and has been sued for defamation yet again. He could also be indicted in Georgia for his role in trying to overturn the 2020 election within the next few weeks.