Madman Trump Promises to Run for President From Prison if He's Convicted
Donald Trump is facing new felony charges, but that's still not stopping him.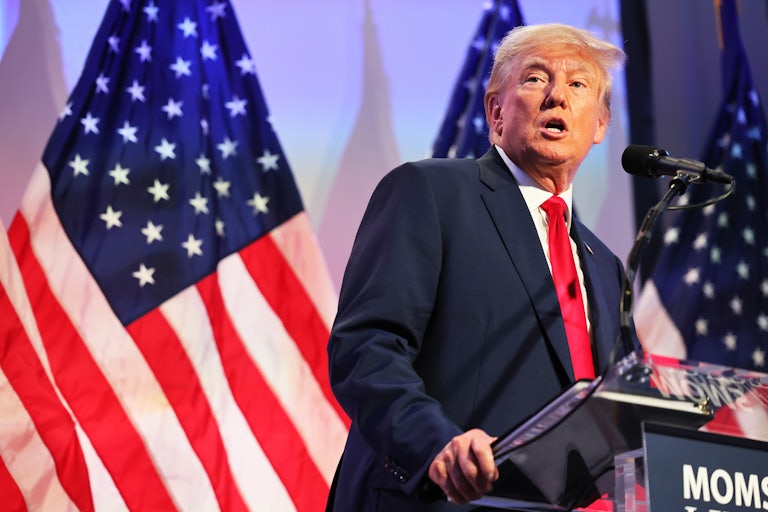 Michael M. Santiago/Getty Images
Donald Trump said Friday that nothing will stop him from running for president, not even a conviction in his federal indictment case.
Trump has been indicted for mishandling classified documents at Mar-a-Lago, and the investigating special counsel Jack Smith unveiled new charges Thursday evening. This is the first time that Trump has acknowledged that going to jail is a possibility, as he generally insists that he has done nothing wrong.
During a radio interview, pro-Trump host John Fredericks asked the former president, "If, going forward, right, you get these indictments, there ends up—you got a jury in D.C., you get convicted and sentenced. Does that stop your campaign for president if you're sentenced?"
"Not at all. There's nothing in the Constitution," Trump replied. "Even the radical left crazies are saying, 'No, that wouldn't stop!' And it wouldn't stop me either."
Technically, Trump is right. There is nothing in the Constitution prohibiting incarcerated people from running for office, although it is unclear how things would work if Trump won.
It's also not entirely unprecedented for someone to run for office from jail. Socialist Party nominee Eugene Debs ran for president in 1920 despite being imprisoned for his opposition to World War I. An advisory neighborhood commissioner in southeast Washington, D.C., ran for office while incarcerated—and is working while still in prison.
Even Brazilian President Luiz Inácio Lula da Silva was unofficially on the campaign trail while in prison. His incarcerated status made him ineligible to run, but he still led incumbent Jair Bolsonaro in the polls. After the Supreme Court overturned his conviction, he was elected in October.
A major difference, though, is that Lula condemned an attempt by Bolsonaro supporters to overthrow the country's democracy. Trump is under investigation for allegedly instigating such an attempt. He faces decades in prison for the charges against him.
In addition to the classified documents case, Trump is under investigation in both Washington and Georgia for his efforts in trying to overturn the 2020 election. Indictments in both of those cases are expected within the next few weeks.