Donald Trump Might Just Time His Arrest to Get Out of the Republican Debate
The Republican frontrunner, everyone.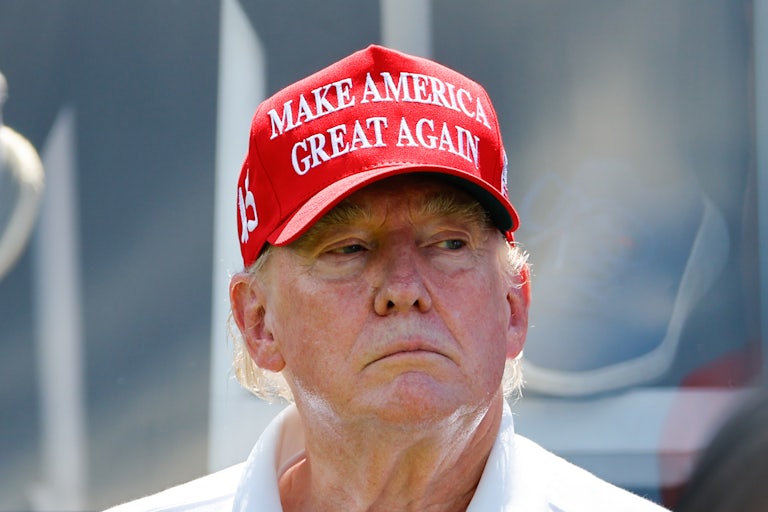 Rich Graessle/Icon Sportswire/Getty Images
Donald Trump
Donald Trump may soon decide that he prefers being publicly arrested over debating his fellow Republican presidential candidates.
Trump, who has said he's not sure if he will not participate in the first Republican primary debate, was indicted for a record fourth time on Monday. A date has not yet been set for his arraignment, but he and his 18 co-defendants have until August 25 at noon to turn themselves in. The debate will be the night of August 23.
So Trump could easily arrange to appear at the Fulton County courthouse the day of the debate, ensuring that all eyes will be on him instead of his opponents.
"That'd be smart," one former Trump campaign aide, speaking anonymously, told NBC.
Besides, "there's no reason he should debate," the aide said, referring to Trump's massive lead over the other candidates. (Trump should, of course, have to participate in the debate and explain his policy ideas to voters.)
Another source close to Trump, also speaking anonymously, suggested the former president could turn himself in the day after the debate, preventing another candidate from gaining any momentum in the headlines.
"He should do it the day after the debate to suck up all the post-debate coverage," the source told NBC. "That way even if another candidate has some sort of 'moment' at the debate, it falls into a black hole, press-wise."
Trump announced two weeks ago that he has no intention of participating in the debate, adding on Truth Social that the other candidates should "so I can see who I MIGHT consider for Vice President!" Since then, he has said he's still thinking about it, but he also said he won't sign the Republican loyalty pledge required to participate.
Trump also is on increasingly bad terms with Fox News, which is broadcasting the debate. He called Fox a "hostile network" and has criticized his former favorite network for not covering his campaign events.

Even so, Fox executives have begged Trump to take part in the debate. He reportedly had dinner with Fox News president Jay Wallace and chief executive Suzanne Scott, during which they urged him to participate, just hours after he was indicted for a third time.