Fox News Blames Tropical Storm Hilary on Joe Biden
This is what passes for humor on the network.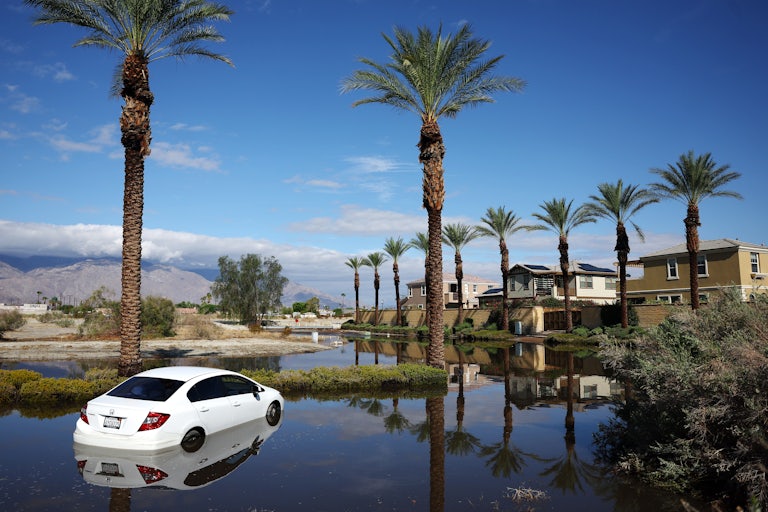 Mario Tama/Getty Images
A partially submerged vehicle in Cathedral City, California, on Monday
There's only one thing to blame for the tropical storm that battered California over the weekend, according to Fox News. No, not climate change. It's Joe Biden.
Tropical Storm Hilary unleashed record-breaking rainfall in Southern California on Sunday, causing floods, mudslides, and rockslides. The storm has begun to dissipate, but weather forecasters warned Hilary could still cause "life-threatening" flooding across the Southwest. Such extreme rain is unusual for California, particularly this time of year, and can be attributed to the effects of climate change.
But Fox News has an alternate theory. Hilary "made landfall in Mexico several hours ago, but they let it right into the country because it's Biden's America," one of the hosts of The Big Weekend Show said Sunday.
It's likely the hosts were trying to make a joke about Biden's immigration policies, but maybe the Fox News hosts would prefer a president who thinks you can stop a storm by dropping nukes in it.
As if Hilary wasn't enough of a crisis for California, a 5.1-magnitude earthquake rocked part of Southern California as the storm was rolling through. For actress Candace Cameron Bure, a Christian conservative known for her roles on the Hallmark channel and Full House, neither Biden nor climate change was to blame for the so-called hurriquake.