Fox News Enters Its Post–Tucker Carlson Era
Its ratings have rebounded, and it has finally found its Tucker Carlson replacement.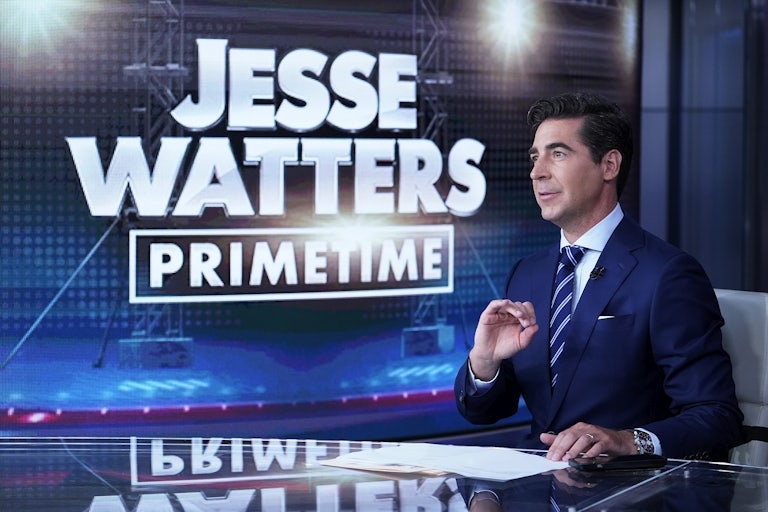 John Lamparski/Getty Images
When Fox News fired Tucker Carlson in April, the network entered a tailspin. It had parted company with stars before—most notably Bill O'Reilly, after Fox News and the longtime host settled lawsuits with five women who had accused him of sexual misconduct—but always bounced back. Fox News, the thinking both inside and outside the network went, was bigger than its stars and could make or break them more or less at will.
This time was different, however. Carlson was a different type of Fox anchor: Less glued to the GOP establishment, he played a vital role in pushing nativist and far-right narratives into the mainstream. At the same time, Fox had genuine, if significantly smaller, competitors on its right; viewers had real alternatives, something that hadn't always been the case. After Carlson departed the network, its rankings tanked. There were calls for boycotts and, most absurdly, allegations that Fox News had "gone woke." In May, the ratings for Carlson's 8 p.m. slot fell by more than 50 percent; the network's prime time fell by about 40 percent. Fox News was in a genuine crisis.
At the end of June, that crisis seems to largely be over. The network's ratings have rebounded, although they haven't come close to what they were before Carlson's defenestration. Last week, Fox News dethroned MSNBC—which had taken the top of the leaderboard during its right-wing competitor's tailspin—averaging 1,536,000 viewers to MSNBC's 1,397,000 in prime time. (CNN continued to lag behind with 800,000 viewers.) And on Monday, Fox News announced it was shaking up its post-Carlson lineup. Jesse Watters, who got his start doing racist "comedy" videos on O'Reilly's show and has since become a star as the resident doofus on Fox News's The Five, will take over Carlson's old 8 p.m. show. Greg Gutfeld's painfully unfunny late-night show, Gutfeld!, will move to 10 p.m.
Both hosts use the guise of comedy to push reactionary views. Both are also painfully unoriginal and predictable, using the same complaints about wokeness and crime again and again in predictable ways. Unlike with Carlson, you'll never be surprised—even if you will occasionally be shocked—by what they say. That's the point. Fox News's brass grew frustrated with Carlson because they couldn't control him. Carlson would stray—sometimes far—from Republican orthodoxy on a number of issues. He didn't try to disguise his bigotry, as Watters and Gutfeld often do, with the possibility that they're joking. He would push back at efforts to control him. Fox News executives don't have to worry about Watters and Gutfeld. They are good soldiers who will follow the company line.