Vivek Ramaswamy Tries to Back Off 9/11 Comments—Then Doubles Down on Them
A Republican presidential candidate is spreading conspiracy theories about September 11.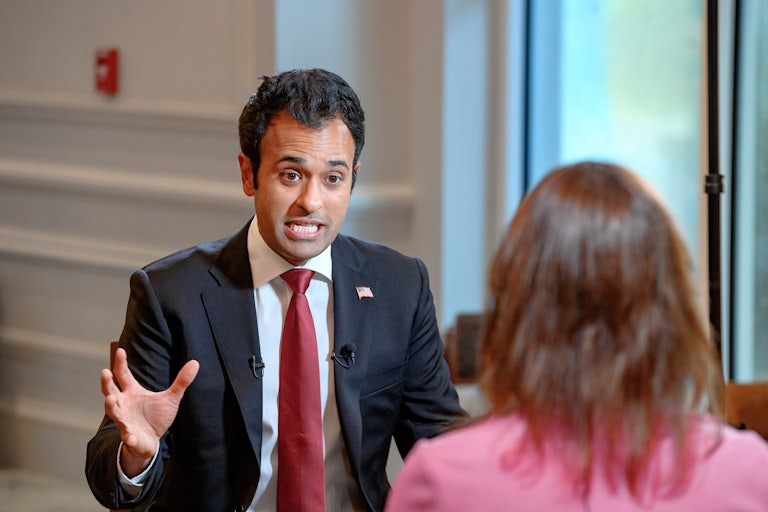 Ivan Apfel/Getty Images
Another day, another terrible take from Vivek Ramaswamy. This time, the Republican presidential candidate insists that 9/11 was an inside job.
Ramaswamy is under fire over a profile published Monday in The Atlantic. When reporter John Hendrickson asked him what the "truth" about the January 6 riot is, Ramaswamy quickly spiraled into conspiracy theories about the 9/11 attack, including wondering how many federal agents "were on the planes that hit the Twin Towers." When Hendrickson pressed further, he said he was really talking about January 6.
But Ramaswamy doubled down on his comments Monday night. "Our government, for 20 years, lied to the American people about it. That is hard fact, actually," he told CNN's Kaitlan Collins.
Collins pointed out that the official 9/11 commission published a report on the attack in 2004—which distinctly found zero evidence of a U.S. government plot.
"Yes, and it lied. And it was false," Ramaswamy said.
He also insisted he is "speaking truth, grounded in fact."
Ramaswamy is, of course, not speaking the truth, but instead is spreading dangerous and harmful conspiracy theories. In the Atlantic profile, when asked about the truth of January 6, Ramaswamy said, "I don't know, but we can handle it.… How many government agents were in the field?" (No federal agents were involved in inciting the riot.)
As for 9/11, he said, "I think it is legitimate to say how many police, how many federal agents, were on the planes that hit the Twin Towers. Maybe the answer is zero.… But if we're doing a comprehensive assessment of what happened on 9/11, we have a 9/11 commission, absolutely that should be an answer the public knows the answer to." (Again, no federal agents were involved in orchestrating the tragedy.)
Ramaswamy is no stranger to spreading conspiracies. Last week, he blamed the tragic wildfire in Hawaii on diversity, equity, and inclusion programs.
His other major talking points include battling "wokeness," taking away rights, and, apparently, caving to Russia and China.