Of Course They Are: The Right Is Blaming Hawaii Wildfire on Wokeness
Far-right figures are somehow blaming DEI for the disaster in Maui.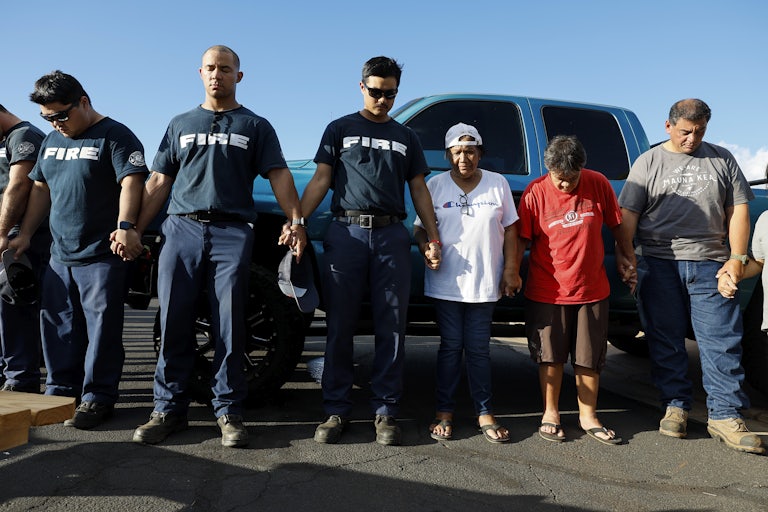 Robert Gauthier/Los Angeles Times/Getty Images
As Hawaii reels from devastating wildfires and considers how to rebuild, far-right figures are… blaming wokeness for the whole thing.

The conspiracy theory essentially goes like this: An Obama-backed Hawaii official delayed the diversion of water to firefighters during the wildfires in Maui, because that official is a native Hawaiian who respects how water is used.
Republican presidential candidate Vivek Ramaswamy helped fan the flames of the right-wing conspiracy theory on Thursday, arguing that "DEI," or diversity, equity, and inclusion, is to blame for the whole thing.
"[W]e're learning that the official who delayed the approval is an Obama Foundation 'Asia Pacific Leader' & a climate activist," Ramaswamy tweeted. He's a "climate activist who believes water should be 'revered' first and foremost. The DEI agenda is literally costing people their lives."

The theory targets M. Kaleo Manuel, the deputy director of the Hawaii Commission for Water Resource Management (CWRM), following reports that requests for more water were delayed by officials.

On August 10, West Maui Land Co. Inc. sent a letter addressed to Manuel alerting him of a communication issue that occurred the day before.

According to the letter, West Maui Land Co. had reached out to CWRM to alert officials that the reservoirs firefighters were using to combat the wildfires were near-empty, and to request access to nearby streams. While much of the initial fire was already contained by then, West Maui Land was seeking additional resources for fire control. In response, CWRM asked if the Maui fire department was requesting commission, and directed West Maui Land Co. to inquire with a downstream user to ensure that their use of the stream would not be impacted by the diversion.

Permission was eventually granted, but only five hours after the initial request, and by that time "a flare up had shut down the Lahaina Bypass."
"We watched the devastation unfold around us without the ability to help," the letter said.
Here is the part that has right-wingers up in arms: Manuel had previously made comments about how native Hawaiians consider water one of the "earthly manifestations of God." In a 2022 panel on sustainability, Manuel said that people have become used to "looking at water as something which we use, and not necessarily something we revere as that thing that gives us life."
That comment has become the basis for right-wingers' attack.
Elon Musk, happy to fan the flames of conspiracy, responded to a tweet which contained a clip of Manuel at the 2022 panel, saying that Manuel "refused" to release water. "Doesn't that make him in large part responsible for their deaths?" Musk tweeted.
The clip first began circulating on X, formerly known as Twitter, after Jeremy Kauffman, a libertarian activist, shared it with the caption: "Meet M. Kaleo Manuel, the official who refused to release water in Maui, contributing to up to 106 deaths." Kauffman also made sure to note that Manuel was a "Hawaiian studies major" in college.
Charlie Kirk, president of Turning Point USA, also reshared the video from Kauffman on X. "I'm sure all the victims of the Maui fire are grateful their leaders were focused on worshipping water rather than using it to save their lives," Kirk wrote.

Conservative media outlets, like The Washington Examiner and The Free Beacon, have elevated the smear campaign further.

Again, Manuel's comments are from nearly 10 months ago, and they're not even that wild on their face: It does make sense to think about how we use water, as our planet deals with a spiraling climate crisis. But the right really loves its own conspiracy theories.