Ron DeSantis Booed at Vigil for Victims of Racist Shooting in Florida
What exactly did the Florida governor think was going to happen here?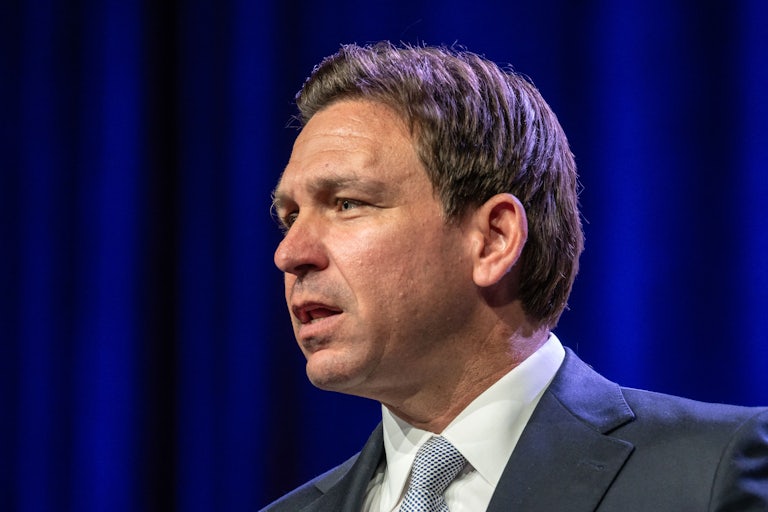 SERGIO FLORES/AFP/Getty Images
Florida Governor Ron DeSantis was loudly booed while at a weekend vigil for victims of a racist mass shooting in Jacksonville.
A white man opened fire in a Dollar General store in a predominantly Black neighborhood on Saturday, killing three people, all of whom were Black. The shooter, who then killed himself, used a Glock handgun and an AR-15 semiautomatic rifle, at least one of which was painted with a swastika. Jacksonville Sheriff T.K. Waters said the shooter "hated Black people" and acted alone.
DeSantis attended a vigil Sunday night. But when he tried to give a speech, the crowd began booing him so loudly that he was drowned out. Some people also shouted "Black Lives Matter!" and "Black history matters!" This was a reference to DeSantis's administration blocking an AP African American Studies course and rewriting the state's Black history curriculum, which now requires teachers to tell students that enslaved people learned valuable skills from slavery.
Jacksonville Councilwoman Ju'Coby Pittman stepped in and told the crowd to stop, saying, "It ain't about parties today. A bullet don't know a party."
But the boos for DeSantis are understandable. In addition to his attacks on Black history, the governor has signed multiple bills this year that make it easier for people to access firearms. In April, DeSantis signed a law that would allow people to carry concealed loaded guns without any permits, training, or background checks. A month later, he signed a law preventing credit card companies from tracking firearm and ammunition sales, making it harder to track suspicious weapons purchases.