"Mental Health Incompetence": Republicans Demand Mitch McConnell Resign
The resignation calls are growing louder after McConnell's second freezing incident.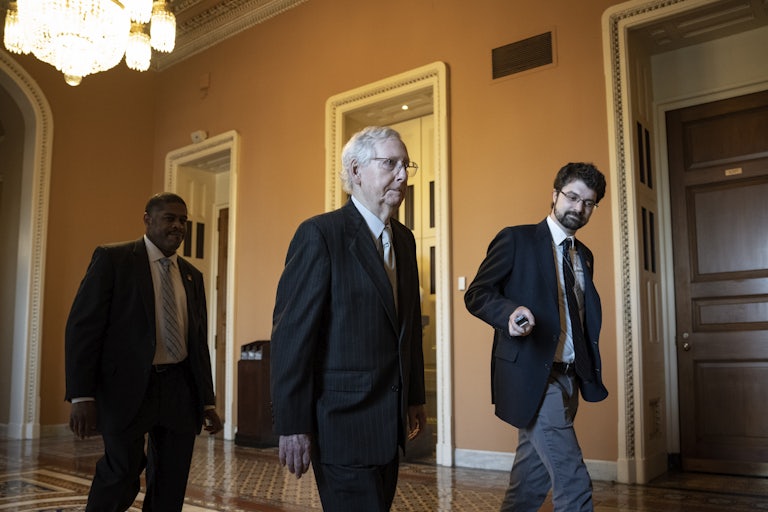 Drew Angerer/Getty Images
Several Republican figures have spoken out against Senate Minority Leader Mitch McConnell since his second freezing episode while addressing reporters on Wednesday.
The 81-year-old senator was left speechless in the middle of a press conference. The first time this happened was a little over a month ago. In both instances, his aides had to intervene, as he was unable to answer the reporter's questions.

And Republicans seem to be finally turning on McConnell.
Representative Marjorie Taylor Greene has been the most outspoken member of the House to address McConnell's episode, saying on Wednesday that he is unfit for office.

"Severe aging health issues and/or mental health incompetence in our nation's leaders MUST be addressed," Greene wrote on X, formerly known as Twitter.
Representative Matt Gaetz commented "Yikes" when reposting the video of McConnell freezing.

Conservative activist Ned Ryun went on Fox News and said McConnell is "very much expendable." He predicts that Senator John Thune could replace him.
"Great for [McConnell] blocking Garland, but that only worked because Donald Trump won," Ryun told Laura Ingraham on Fox, referring to McConnell's blocking of a Supreme Court justice during the Obama administration.
Political commentator Bill O'Reilly is also pushing for McConnell's resignation.

"It looks like he's gonna have a stroke," O'Reilly told News Nation's Chris Cuomo. "Every American should email Senator McConnell's office tomorrow, every American and say, 'Please, please resign for the sake of your health.'"