"He Is Just Not Processing": Republicans Want a New Mitch McConnell
The Republican Senate leader has had a few public health scares recently—and the rest of his party seems ready for his successor.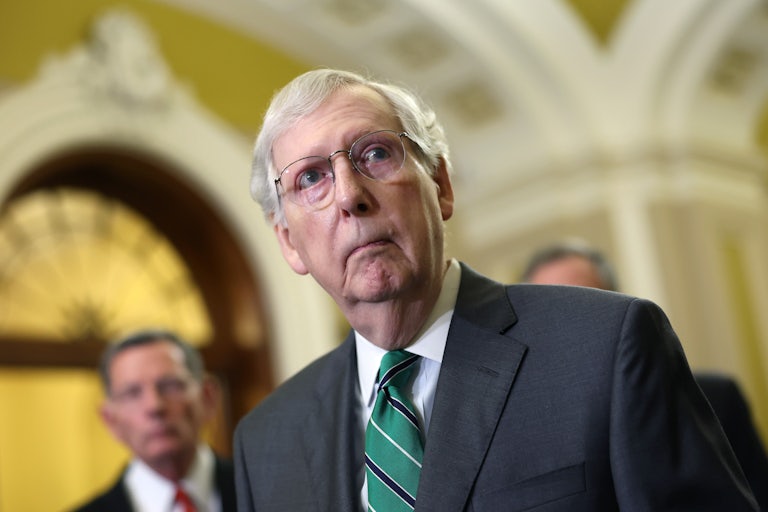 Drew Angerer/Getty Images
Senator Mitch McConnell
Some Republican lawmakers are suggesting that Senator Mitch McConnell should step down, amid widespread concern for his health after he froze during a press conference earlier this week.
The Senate minority leader was escorted away from the cameras during a news conference Wednesday, after he froze and appeared unable to continue speaking. When he returned later, McConnell declined to comment on what happened or whether it was related to the fall he suffered in March, which resulted in a concussion and his weeks-long absence from the Senate.
Republican lawmakers are already saying that McConnell should resign or even that he's on his way out. One senator confided anonymously to Politico that "the next leadership election is well underway."
"I'd hate to see it forced on him," the senator said, speaking anonymously. "You can do these things with dignity, or it becomes less dignified. And I hope he does it in a dignified way—for his own legacy and reputation."
The senator said that McConnell doesn't speak nearly as much during the weekly party meetings. Senators John Thune and John Barrasso—who came to McConnell's aid when he froze at the podium—have been taking over more frequently.
"I think that he is just not processing," the senator said.

Even those who are brave enough to go on the record seem concerned about McConnell's ability to remain in leadership.
"He suffered a really bad fall, and that's actually had an impact on him," Senator Ron Johnson told NBC, without going into more detail about McConnell's ability to keep working. "Obviously, that fall affected him."
"Age affects us all," Johnson said. "You can't deny that reality."
Ted Cruz said he had "every hope" that McConnell would bounce back, but he didn't sound sure. "That obviously was concerning. I hope it was just a momentary issue and that he's doing better," the Texas senator told Politico.
In addition to his concussion, McConnell reportedly fell while at the airport just two weeks ago, and he has been using a wheelchair to get around crowded areas. His physical condition isn't actually that surprising: At 81, he's the longest-serving Senate party leader, and he's a member of the second-oldest Senate in history.
What is not understandable is his apparent decision to cling to power after suffering incapacitating physical harm. His situation is starting to look like that of Dianne Feinstein, who has refused to step down despite growing concerns that she is no longer mentally capable of governing. Feinstein now risks tarnishing her impressive legacy by refusing to walk away. McConnell could soon do the same.