What the Hell Just Happened to Mitch McConnell in This Press Conference?
The Senate minority leader appears to have just shut down.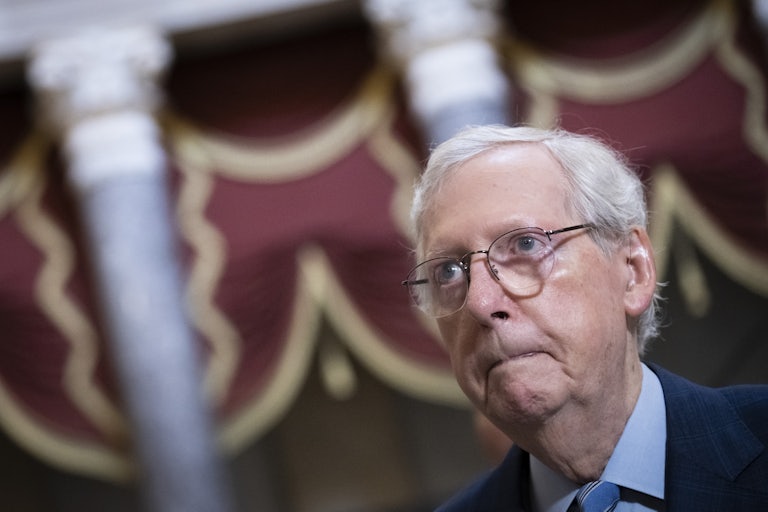 Drew Angerer/Getty Images
Senate Minority Leader Mitch McConnell was escorted away from the cameras during a news conference Wednesday, after he froze and appeared unable to continue speaking.
McConnell began the press conference but soon trailed off mid-sentence and stood frozen at the podium. Eventually, Senator Joni Ernst put her hand on McConnell's shoulder and asked, "Are you good? Mitch?"
Senator John Barrasso also approached and quietly asked, "Are you OK, Mitch? Anything else you want to say, or should we just go back to your office?"
McConnell did not respond verbally, only turning and walking off to the side. Senator John Thune then stepped up to the podium to continue the briefing.
When McConnell returned to the podium a little later, CNN reporter Manu Raju asked him if his freezing up was "related to your injury from earlier this year, when you suffered a concussion?"
"No, I'm fine," McConnell replied.
Raju was referring to March 8, when McConnell tripped and fell after an event in Washington. He was hospitalized with a concussion and discharged on March 13. McConnell then spent more than a week in a physical rehabilitation facility.
If his freezing up is related to that injury, then that's perfectly normal. McConnell is 81 years old and suffered terrible physical harm—and his injury is common for many older Americans. It's understandable that he might still be dealing with negative effects.
What is not understandable is his apparent decision to cling to power after suffering incapacitating physical harm. When asked during the press conference by The New Republic's Pablo Manríquez whether he had someone in mind to replace him if (let's be real, when) he steps down as Republican leader, McConnell glared, then smiled and walked away.
The situation is starting to look like that of Dianne Feinstein, who has refused to step down despite growing concerns that she is no longer mentally capable of governing. Both politicians are looking less and less able to keep up with the demands of their job—again, understandable!—but simply cannot bring themselves to walk away.