Republicans Are Mad Biden Is Spending 9/11 in Alaska. Anyone Remember What Trump Did?
Note to Republicans: Joe Biden is not the first president to commemorate the 9/11 attacks outside of New York City.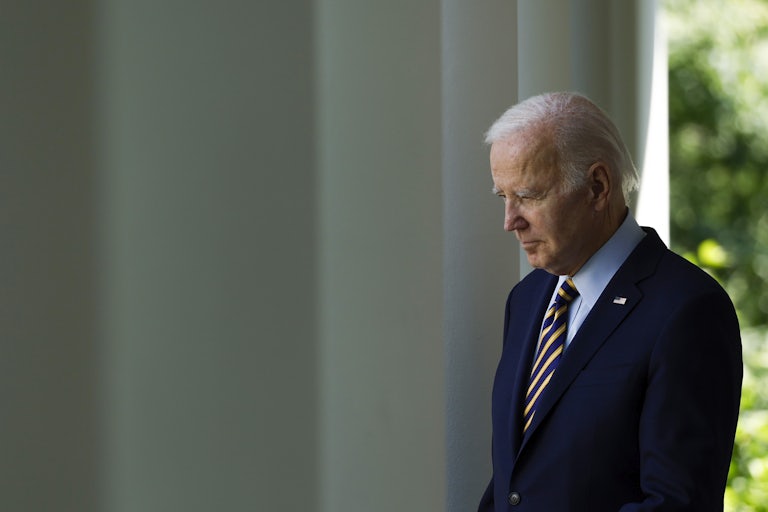 Anna Moneymaker/Getty Images
President Joe Biden is marking the 9/11 anniversary in Alaska—and Republicans are fomenting an entire news cycle over it.
Biden, who is en route to Washington from his trip to India and Vietnam, will attend a ceremony on a military base in Anchorage, Alaska, on Monday, where he is expected to deliver remarks to more than 1,000 service members. Vice President Kamala Harris attended the commemoration ceremony at the National September 11 Memorial Plaza in New York.
Right-wing media outlets have chosen to commemorate the worst terrorist attacks on American soil by inciting faux outrage over Biden's absence from the ceremony in New York City.
On Monday morning, Fox & Friends aired a map showing exactly how far away Joint Base Elmendorf-Richardson in Alaska is from each of the 9/11 crash sites, highlighted op-eds railing against Biden's absence, and invited comments chastising Biden from people who lost loved ones in the attacks.
Fox & Friends anchor Ainsley Earhardt claimed that "every president since 9/11 has been at one of these sites," and that Biden's trip to Alaska constitutes a "huge break from tradition."
While Biden will be the first president to commemorate the 9/11 attacks from the West Coast, Earhardt's claim is patently false.

Biden is not the first president to mark the anniversary of 9/11 from somewhere other than Ground Zero, or one of the other sites that were attacked. Former Presidents George W. Bush and Barack Obama both commemorated the day from the White House lawn at different times. In 2021, Trump went to New York City but opted out of the official Ground Zero ceremony.

Fox also reached out to Republican presidential candidates to gain their insights on the president's scheduling.

Republican candidate Nikki Haley said that she believed Biden should "absolutely" have attended the ceremonies in New York City. Former Vice President Mike Pence also weighed in on the imagined controversy. "I would urge President Biden, as I would any president, to honor the memory of heroes forged that day," Pence said, ignoring that Biden did exactly that.

For right-wing media, it seems, none of the outrage is actually real, just a way to score some cheap political points and try to remain relevant to the scores of still mourning Americans looking for someone to blame.