Spineless Brian Kemp on Why He'll Still Back Donald Trump in 2024
Georgia's Republican governor stood up to Trump for all of two seconds.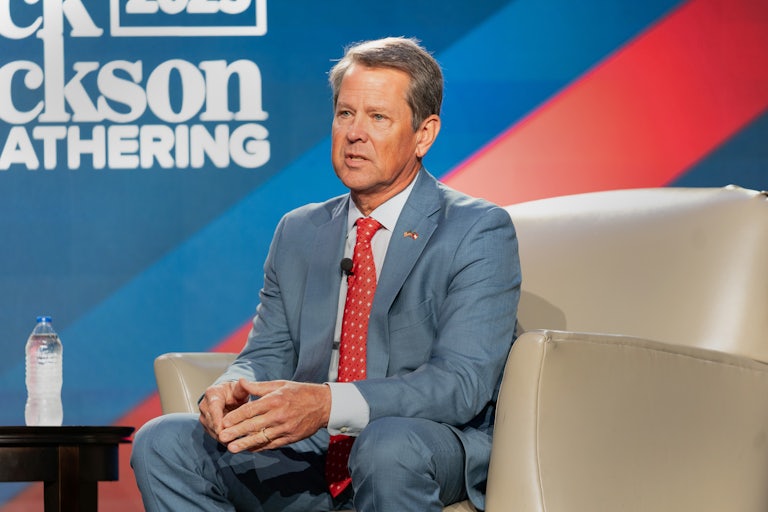 Megan Varner/Getty Images
Georgia Governor Brian Kemp
Georgia Governor Brian Kemp, one of the few Republicans to repeatedly condemn Donald Trump's claim of 2020 election fraud, has caved and said he will back the former president in 2024.
Kemp has held the line that the Georgia presidential election was valid, despite repeated Trump attacks. He was also one of the few Republicans to back the legitimacy of the indictment against Trump for trying to overturn the state's election. But in an interview published Sunday with The Atlanta Journal-Constitution, Kemp finally broke.
"It has nothing to do with being a coward," Kemp insisted, on why he'd back Trump if he is the Republican nominee in 2024. "It has everything to do with winning and reversing the ridiculous, obscene positions of Joe Biden and this administration that literally, in a lot of ways, are destroying our country."
"Despite all of his other trials and tribulations, [Trump] would still be a lot better than Biden," Kemp said. "And the people serving in the administration would be a lot better than Joe Biden."
Kemp hinted last month that he would back whoever wins the Republican presidential nomination, tweeting, "2024 is too important for political games." But this is the first time he has openly expressed support for Trump.
This shift likely does have personal reasons, though. Trump has already gone after Kemp's position. In 2021, he got former Senator David Perdue to run against Kemp for governor. Perdue is a loyal MAGA Republican who has backed Trump's false claims of election fraud.
Kemp was reelected in a landslide, but Perdue's campaign shows just a fraction of how far Trump is willing to go to get revenge on people who oppose him. If Trump is the nominee, his already outsize influence in the Republican Party will only grow—and Kemp could be in big trouble if he doesn't fall in line.