Trump Inflated Net Worth by $2.2 Billion Before He Ran for President: NY AG
The New York attorney general says Trump regularly overstated his net worth to financial institutions.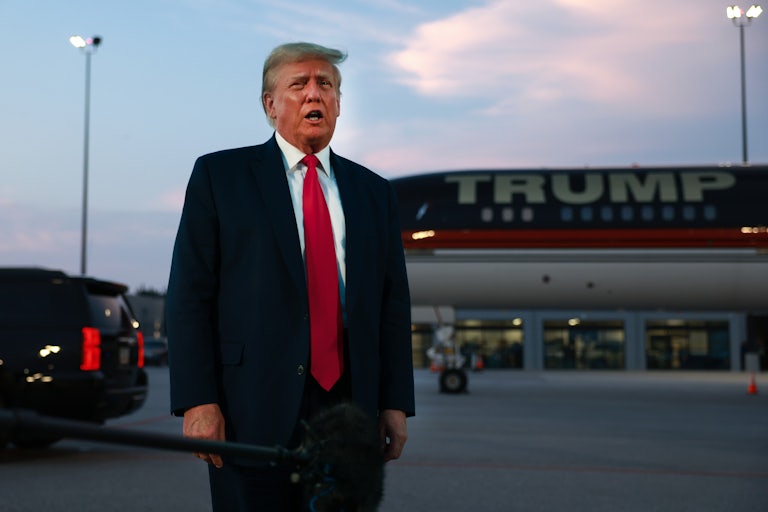 Joe Raedle/Getty Images
The New York attorney general's office says there is "no shred of doubt" that former President Donald Trump inflated his net worth—by as much as $2 billion in one year.
New York Attorney General Letitia James made the claims in court filings public on Wednesday, related to the multimillion-dollar civil suit against Trump, the Trump Organization, and Trump's adult children for defrauding insurers and other entities.

The attorney general's office had evaluated over 10 years' worth of Trump's financial statements.
"Mr. Trump's net worth in any year between 2011 and 2021 would be no more than $2.6 billion, rather than the stated net worth of up to $6.1 billion, and likely considerably less if his properties were actually valued in full blown professional appraisals," the attorney general's office said.
Trump's corrected financial statement "reduces Mr. Trump's net worth by between 17-39% in each year, or between $812 million to $2.2 billion, depending on the year."
The $2.2 billion disparity happened in 2014, one year before Trump announced his bid for president.
Trump has denied any intent to defraud insurers and lenders. Also in court filings made public Wednesday, Trump claimed he was too busy trying to avert a nuclear holocaust to do any business fraud.
"I think you would have nuclear holocaust if I didn't deal with North Korea. I think you would have a nuclear war, if I weren't elected," Trump said in an April deposition.
The former president stated during the same deposition that he had "virtually" no role in his company since running for office in 2015 and that his son, Eric Trump, was more involved.
"If you look at Biden, he certainly does business and politics at the same time. But I felt I wanted to be a legitimate president," Trump said.