The House Ethics Committee Is Coming for Matt Gaetz
A revived investigation into the congressman's alleged sexual misconduct is ramping back up.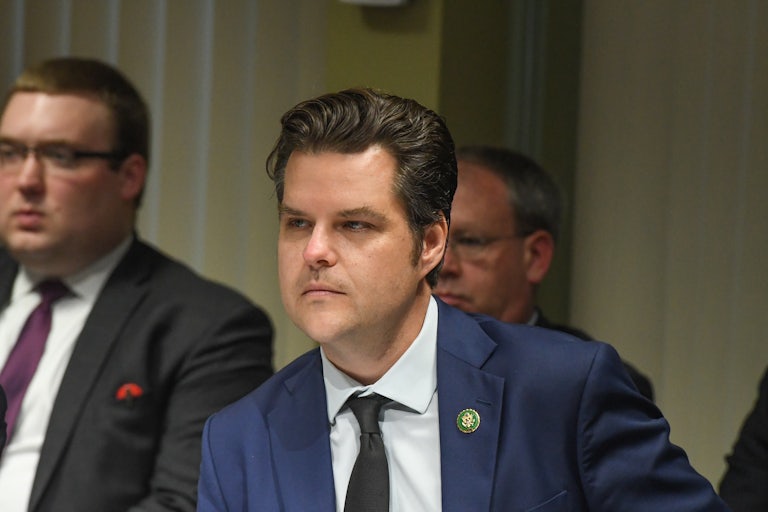 Matt Gaetz is back in hot water.
CNN reports that House Ethics Committee investigators have started to reach out to witnesses amid a recently revived investigation into allegations that the Florida Republican engaged in sexual misconduct, illicit drug use, and other misconduct.
When the investigation was first opened in 2021, the committee was looking into whether Gaetz violated sex trafficking laws, in connection with an alleged sexual relationship with a 17-year-old. He was also being investigated for employing campaign funds for personal use, accepting a bribe, and sharing inappropriate images or videos on the floor of the House.
Gaetz told CNN that the inquiry is "not something I'm worried about, I'm focused on the work."
"It's also funny that the one guy who doesn't take the corrupt lobbyist and PAC money seems to be under the most Ethics investigation," ignoring that there are, in fact, scores of other representatives who also do not take PAC money.
The investigation was first delayed as the Department of Justice underwent its own federal criminal investigation into the same allegations, concluding without bringing any charges.
Now, the committee is making contact with witnesses for what appears to be the first known time since it first re-upped the investigation. Within these recent contacts, the committee has reportedly focused on potential lobbying violations. A source noted to CNN that those questions are not necessarily the only ones being asked to the full slate of witnesses, however.
Of note is that the House ethics investigation has resumed under Republican leadership, as the committee is now chaired by Representative Michael Guest of Mississippi.

While Gaetz has often clashed with party leadership, House Speaker Kevin McCarthy told CNN he doesn't "know anything about" the investigation. He declined further questions and referred them to the committee. McCarthy has no influence over the committee's investigation; any involvement would violate rules.
Though Gaetz himself has held that he did no wrong, at least three people have testified under oath that Gaetz asked twice-impeached and twice-indicted former President Donald Trump for a preemptive presidential pardon regarding the Justice Department's investigation into the slate of allegations.