Warnock, Walker Officially Head to Runoff in Georgia Senate Race
The Georgia Senate race was too close to all, the secretary of state announced.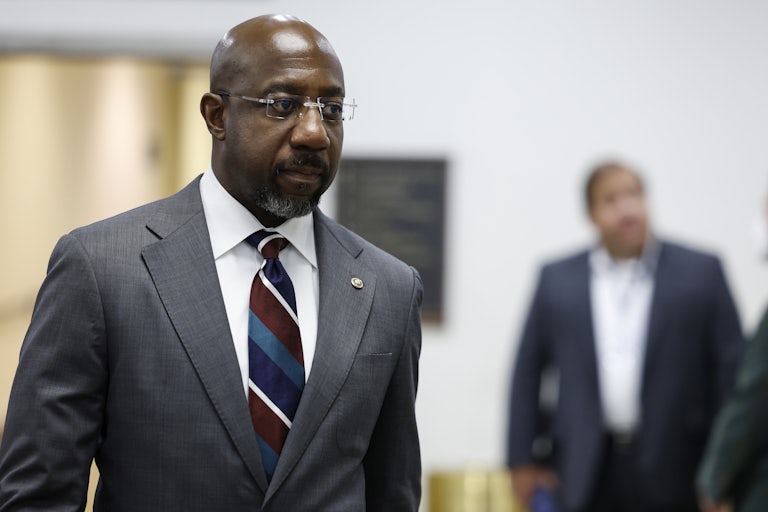 Anna Moneymaker/Getty Images
Raphael Warnock, Georgia's first Black senator, and ultra-conservative opponent Herschel Walker will head to a runoff vote on December 6 to determine who will be elected senator, the secretary of state announced Wednesday.
As of Wednesday morning, incumbent Warnock had 49.4 percent of the vote, while Walker stood at 49.5 percent, according to The New York Times. Neither candidate will win 50 percent of the state, the minimum requirement for avoiding a runoff.
The pair will now enter a four-week campaigning blitz ahead of the second vote.
Warnock was elected to Congress alongside fellow Democrat Jon Ossoff in January 2021 runoff elections, a major victory for Democrats in the historically red state. Georgia also went for President Joe Biden in the 2020 presidential election.
But despite the state's recent history of leaning Democratic, Walker and Warnock were locked in a dead heat for almost the entire race.

A pastor, Warnock describes himself as "Christian progressive," similar to Dr. Martin Luther King, Jr., who presided at the same church in Atlanta where the senator now leads the congregation.
Warnock is pro-choice and campaigned on the belief that the United States can overcome its racist roots and enact social change.
Walker, meanwhile, ran on an ultra-right-wing platform, saying he is pro-life, supports traditional (heteronormative) family values, and would back another run by former President Donald Trump.
He complained about "wokeness" and says he does not believe racism exists.
He also lied about his academic record and was accused by two women of pressuring and paying for them to get abortions.
But Walker enjoyed the widespread support of the Republican Party, who insist that electing a Black senator proves their party is not racist.

But several reports, citing anonymous GOP sources, said that the party really hoped Walker would be both a puppet and a good buffer against accusations of racism. According to The Washington Post, "Many Republican operatives admit privately that Walker was backed by the party's leaders at least in part because the GOP wanted a Black candidate to face Warnock."
This piece has been updated.