Iran's Team Refuses To Sing National Anthem at World Cup Opener
Amid nationwide protests in Iran, Iran's national team chose to stay silent during the national anthem before its game against England.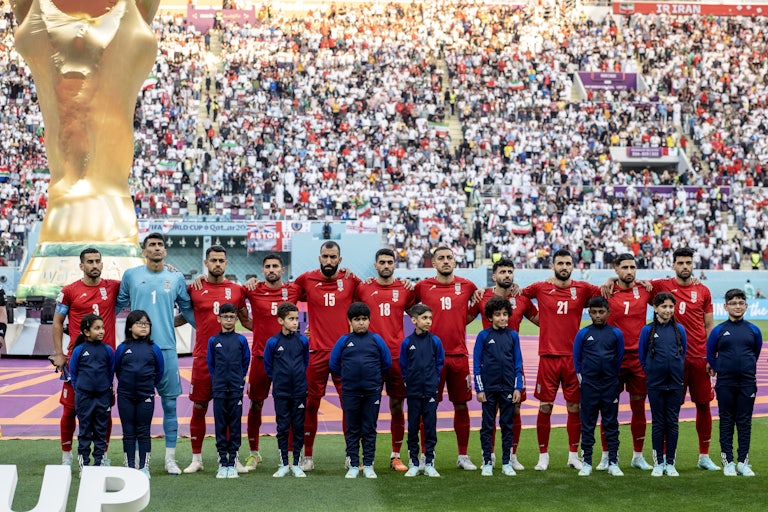 Sebastian Frej/MB Media/Getty Images
Members of Iran's national soccer team made a statement to millions across the globe on Monday, as they refused to sing the national anthem during their match against England in Qatar's World Cup.
The players' dissent is the latest act of resistance against the government, amid monthslong nationwide protests following the mid-September killing of 22-year-old Kurdish woman Jina Mahsa Amini. Amini was arrested by the country's morality police for allegedly not wearing a hijab in accordance with government standards, and was killed in police custody.
While Iran's players remained silent during the anthem, fans could be heard throughout the stadium booing and whistling to drown out the song. Spectators were seen sporting banners and clothes styled in the Iranian flag's colors, reading "women, life, freedom," which has become the main rallying cry for these protests.

During a press conference Sunday, Iranian team captain Ehsan Hajsafi expressed support for the anti-government protests, sharing condolences to families mourning lost loved ones.
Hajsafi began his comments saying "In the name of the God of rainbows," in reference to a sentence said by nine-year-old Kian Pirfalak, who was killed last week amid protests in Izeh, Khuzestan, Iran.
Since the protests began, more than 380 people have been killed, including at least 58 children, according to Human Rights Activists in Iran.
The Iranian team's statement comes against a government that has not only violently suppressed public protest, but also stifled dissent from public figures. Actresses, athletes, musicians, and others have all been targeted and even arrested for acts of solidarity with the protestors. Such pressure had forestalled the Iranian team from speaking out until now, fostering discontent from many Iranians.

Nevertheless, as they took to perhaps the world's largest stage—where the risks of disobedience couldn't be higher—the players of Iran's national team spoke out anyway.