Here's What Every Potential 2024 Republican Nominee Said About Trump's Dinner With Nick Fuentes
Only two candidates have said anything at all about the former president's dinner with a white supremacist.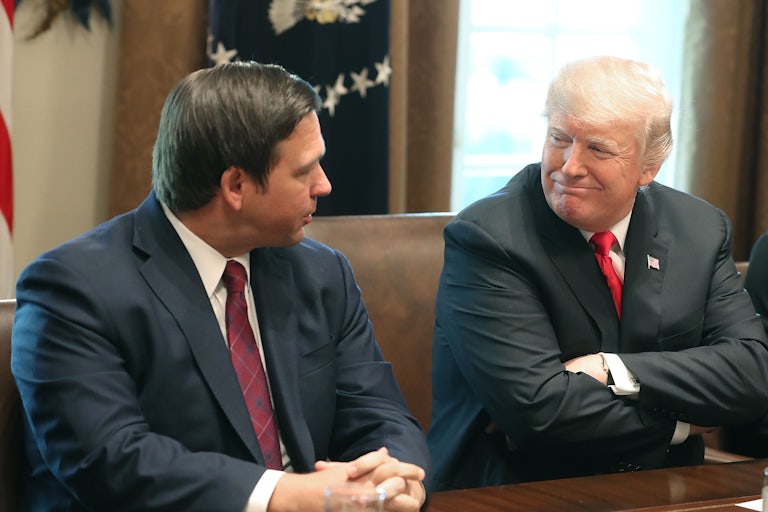 Mark Wilson/Getty Images
Last week, former President Donald Trump shared a meal with antisemites Kanye West and Nick Fuentes.
Fuentes, a Holocaust denier, white nationalist, and self-proclaimed racist, has threatened murder against Jews, expressed approval for the Taliban, and believes "Catholic monarchy, and just war, and crusades, and inquisitions" are much better than democracy.
Nearly every single rumored 2024 Republican presidential candidate has been silent on the shocking meeting.
Of 15 candidates The New Republic looked at, only four candidates condemned Trump's meeting.

On Monday, Utah Senator Mitt Romney said, "There's no bottom to the degree which [Trump]'s willing to degrade himself and the country for that matter. Having dinner with those people was disgusting." Earlier, former Vice President Mike Pence said that Trump "was wrong to give a white nationalist, an anti semite, and a Holocaust denier a seat at the table, and I think he should apologize for it."
Days earlier, former New Jersey Governor Chris Christie called the meeting "awful, unacceptable conduct" and outgoing Wyoming Representative Liz Cheney called it "indefensible."
Every other Republican teasing a 2024 bid for the presidency has remained mum.

Florida Governor Ron DeSantis, former Secretary of State Mike Pompeo, outgoing Maryland Governor Larry Hogan, South Dakota Governor Kristi Noem, former ambassador to the U.N. and South Carolina Governor Nikki Haley, South Carolina Senator Tim Scott, Texas Senator Ted Cruz, Florida Senator Marco Rubio, Missouri Senator Josh Hawley, Virginia Governor Glenn Youngkin, and New Hampshire Governor Chris Sununu have all refused to call out the ostensible head of their party sharing an evening meal with a Nazi.
No member of the GOP leadership in Congress has said a word.
While the party seeks to build meaningful opposition to the baseline support Trump might maintain coming into 2024, it still can't seem to put together even a somewhat coherent organized response to Trump hanging out with a Nazi.

Republicans lost numerous close races they hoped to win during the 2022 midterms—races spearheaded by MAGA Republican candidates.
We don't, in fact, need a "strong" or politically savvy Republican Party. But it would at least be nice have one that could even somewhat denounce racist, anti-democratic Nazis.
This piece was updated to include Pence and Romney's statements, which came after this article was originally published.