Katie Hobbs to Sue GOP-Controlled Arizona County Refusing to Certify the Election
Arizona's Cochise County is refusing to certify election results, despite there being no evidence of voter fraud.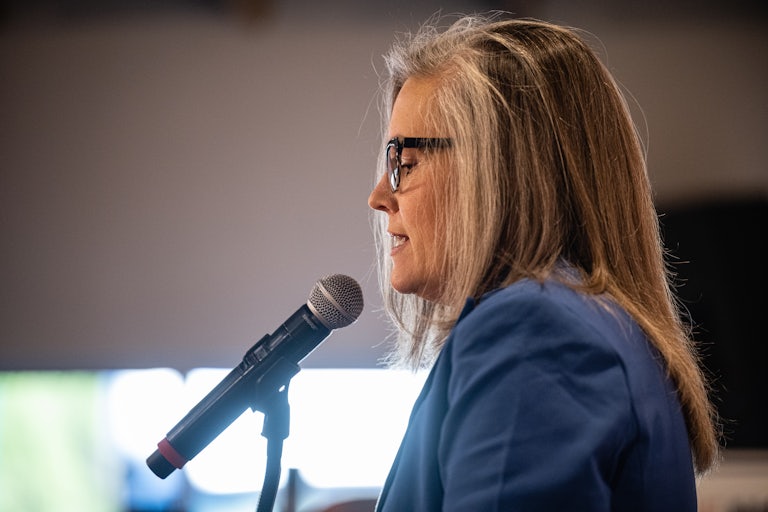 Jon Cherry/Getty Images
Officials in a Republican-controlled county in Arizona voted to delay certifying the 2022 midterm election results, meaning they will miss the state's legal deadline of 5:00 p.m. Monday and face legal action.
Cochise County's decision came despite there being absolutely no discovery of fraud during the voting process.
"There is no reason for us to delay," the board of supervisors chair Ann English, a Democrat, said. Her vote to certify was outweighed by the votes against from the two Republican board members.
The Arizona secretary of state's office confirmed it will sue the county for failing to meet the deadline. The secretary, Katie Hobbs, was elected as governor during the race earlier in November.
Lawyer and Democracy Docket founder Marc Elias also hinted he will file suit against Cochise County.
Arizona has become a crucial swing state after surprisingly going for Joe Biden in the 2020 presidential election. Then-Governor Doug Ducey certified the vote results, but Arizona has been plagued with election falsehoods since.
The midterms were no exception: during early voting, the state reported 18 cases of voter intimidation, including self-appointed poll watchers showing up at ballot boxes with guns.
On Election Day, about 20 percent of the polling stations in Maricopa County began experiencing issues with their tabulator machines. Even though people could still vote, right-wing figures accused the state government of trying to rig the race for Democrats.
Also on Monday, the Maricopa County certification meeting dragged on for hours. County officials ultimately certified the votes, but only after dozens of election deniers accused them of fixing or even destroying ballots.
Kari Lake, who despite her baseless claims otherwise lost the gubernatorial race to Hobbs, retweeted multiple videos of people sharing election conspiracies during the Maricopa meeting. She sued Maricopa County election officials over the weekend, ostensibly to make them respond to her campaign's public records request about the tabulator issues, but really because she's a sore loser.