Senator John Kennedy Rants About "High-IQ, Stupid" Democrats Who Love Kale
Well, that's one way to talk about kitchen table issues before a major Senate race.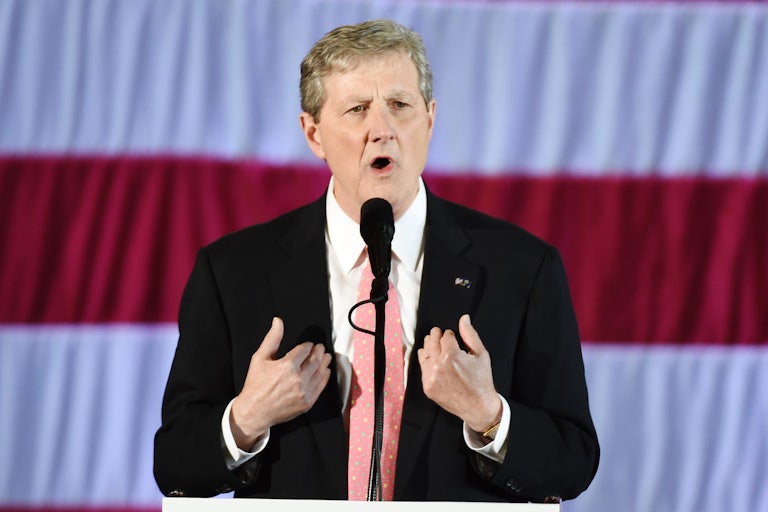 DON EMMERT/AFP/Getty Images
Republican Senator John Kennedy
Campaigning for Georgia Senate candidate Herschel Walker over the weekend, Republican Senator John Kennedy stuck to the kinds of kitchen table issues voters would definitely want to hear about as the fate of the Senate is on the line: "woke" people who "walk around with zip-lock bags of kale that they can eat to give them energy."
"These woke, high-IQ stupid people, they're easy to recognize. They hate George Washington, they hate Thomas Jefferson, they hate Dr. Seuss, and they hate Mr. Potato Head," Kennedy began.
"These, these woke, high-IQ stupid people, they walk around, they walk around with zip-lock bags of kale that they can eat to give them energy," Kennedy said, horrified. "Now, if you wanna eat kale, that's up to you. I don't eat kale. You know why? Because kale tastes to me like I'd rather be fat," he declared proudly.
"And these high-IQ pe—stupid people, the wokers in charge of Washington, D.C., the berserk wing of the Democratic Party—they hyperventilate on their yoga mats if you use the wrong pronoun. They're all over Washington, D.C."
Kennedy—a totally not-berserk man not hyperventilating over a person he just made up—is himself ostensibly a fairly intelligent person. He graduated with honors from Vanderbilt University, before receiving a law degree from the University of Virginia and another degree with honors from Oxford.
Kale seems to be a favorite target of Kennedy's ire (to a much stronger extent than, for example, a former president who incited an insurrection on the nation's capital, dined with Nazis, and called to terminate the U.S. Constitution).
Last year, as President Joe Biden pushed to close an inheritance-tax loophole—something many "regular" Americans would likely get behind—Kennedy blasted the effort. "This is what happens when you have a president and a Treasury secretary who are on a mission from God to please pink-haired wokers who carry around Ziploc bags of kale."
Many have wondered where Walker's dishonest, incoherent, and culture-war-focused candidacy came from. Kennedy's recent remarks affirm the idea that his candidacy is really nothing more than a weak appendage of the Republican Party.