The Georgia Senate Race Absolutely Still Matters
Democrats can do a lot more with 51 seats in the Senate.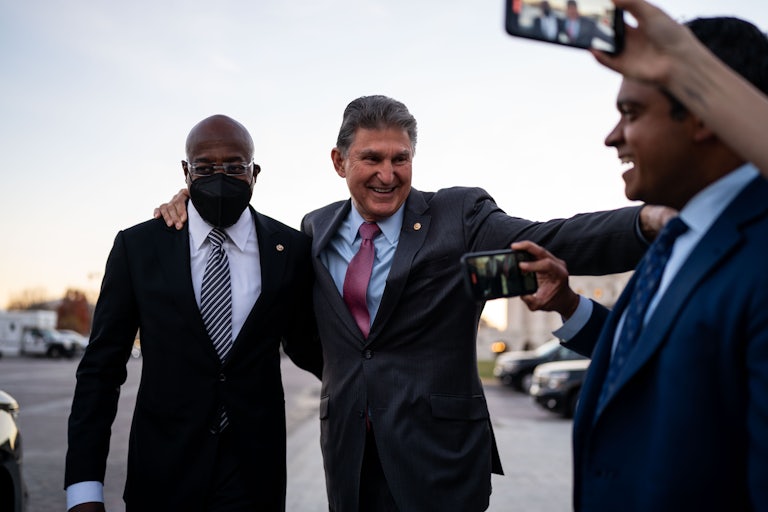 Kent Nishimura/Los Angeles Times/Getty Images
Democratic Senators Raphael Warnock and Joe Manchin
The Democrats have officially kept control of the Senate, but voters still shouldn't take their eyes off Georgia's runoff race.
Democrats hold 50 seats after Catherine Cortez Masto and Mark Kelly won their races in Nevada and Arizona, respectively, over the weekend. Vice President Kamala Harris would act as the tiebreaker vote.
Incumbent Democratic Senator Raphael Warnock faces off against ultra-conservative Herschel Walker in a December 6 runoff race for one of Georgia's Senate seats. Although some pressure has been lifted from Warnock, as his victory is no longer necessary for a majority, winning would still be a huge boon to his party.
David Nir, the political director for Daily Kos, pointed out that the Georgia race still matters "immensely."
Not only would the extra seat eliminate the unspoken power-sharing agreement between Senate Republicans and Democrats, Nir noted that it would also take power away from senators such as Kyrsten Sinema and Joe Manchin, both of whom held up major spending and climate bills.
It would also give Democrats the majority on Senate committees. All committee memberships are currently split evenly between the two parties, resulting in many committee votes dying in ties.

A 51-seat majority would give Democrats full control of the committees giving them the power to approve moves such as judicial nominations without having to persuade Republicans to their side or wait for Harris to weigh in.
Communications strategist Doug Gordon also said that 51 seats would mean fewer seats will need to be defended or flipped during the next election cycle in 2024 to keep the majority.
Also, he added, "Walker has no business being a senator."
The long-predicted "red wave" died down to a slow trickle on Election Day, though it has still been a tooth-and-nail fight to the majority. Cortez Masto only just eked out her win, and the House of Representatives is still up for grabs, almost a week later.
Warnock, Georgia's first Black senator, was elected to Congress alongside fellow Democrat Jon Ossoff in January 2021 runoff elections, a major victory for Democrats in the historically red state.
But despite the state's recent history of leaning Democratic, he and Walker were locked in a dead heat for almost the entire 2022 race. Walker, a former NFL player, enjoyed widespread Republican support despite lying about his academic record and being accused by two women of pressuring and paying for them to get abortions.
The pair will now enter a four-week campaigning blitz ahead of the second vote.