Republicans Endorse RNC Chair Ronna McDaniel for Reelection, Doubling Down on Failing Agenda
A total of 101 Republican National Committee members signed a letter endorsing McDaniel.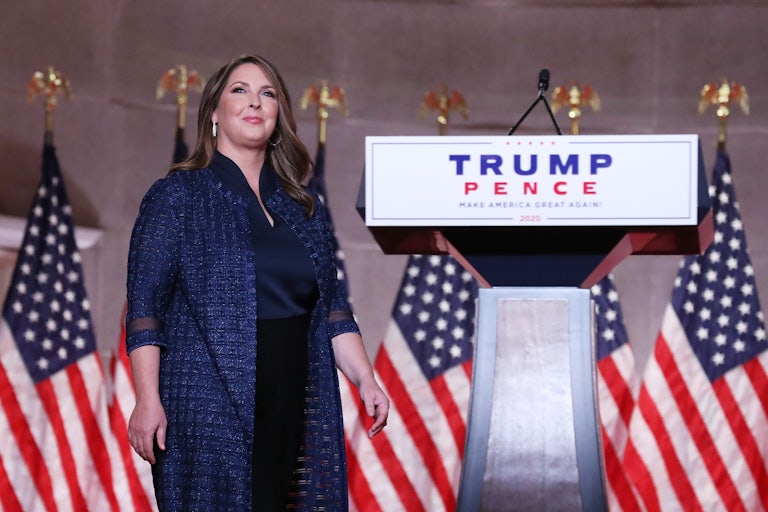 Chip Somodevilla/Getty Images
Republicans are doubling down on the strategy that helped the red wave crash.
In a letter released Friday, a total of 101 Republican National Committee members endorsed Chair Ronna McDaniel for reelection. Citing "the extremist consensus among Democrat Party elites," they credit McDaniel for turning the RNC "into an aggressive and effective advocate for election integrity, including by engaging in over 80 lawsuits," among other things.
The letter is proof that despite a growing number of Republicans speaking out against Trumpism, large segments of the GOP remain committed to the project.
McDaniel herself has long stoked election denialism. Under her leadership, the RNC spent at least $20 million to oppose Democratic efforts to make voting easier during the pandemic. Just a few months before the election, McDaniel posted an RNC-sponsored video fearmongering about voter fraud due to vote-by-mail expansions.
In November 2018, McDaniel pressed Arizona Senate candidate Martha McSally to be more aggressive in stirring doubt in the vote count of the election she lost to Kyrsten Sinema.
The RNC chair is also no stranger to Trumpian corruption. In 2020, ProPublica reported that the RNC gave six-figure contracts to companies linked to McDaniel's husband and her political backers. In 2019, it was revealed that McDaniel was involved in a pay-to-play scheme that would net the RNC $500,000 in exchange for an ambassadorship to the Bahamas.
And if Republicans ever complain about "civility," note that McDaniel spent the final days of the 2022 midterm campaign mocking now-Senator John Fetterman's and President Joe Biden's speech patterns. Fetterman had just suffered a stroke, and Biden grew up with a stutter.
Some may find it perplexing that Republicans are embracing the kind of conspiratorial agenda that made them lose before. The choice is not actually a result of the party embracing Trumpism over some reasoned, people-serving platform. Instead, this kind of hollow politics is all Republicans seem to have at their disposal. After all, 60 percent of committee members have endorsed McDaniel—and all she represents.
Trump-endorsed New York gubernatorial candidate Lee Zeldin has also expressed interest in running for RNC chair. A showdown between two Republicans trying to out-Trump each other will surely add to the GOP's disarray.