Israeli Forces Have Killed Four Young Palestinians in Five Days
We're barely into the new year.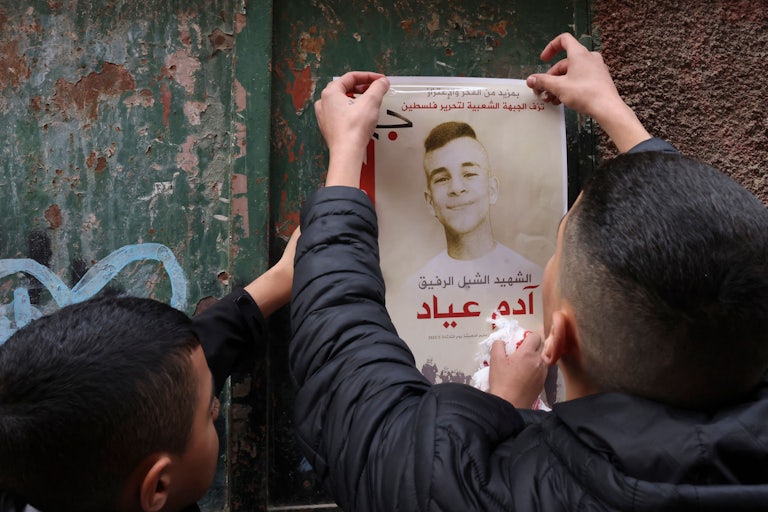 HAZEM BADER/AFP/Getty Images
Palestinian kids hang a poster of 15-year-old Adam Ayyad during his funeral at Bethlehem's Dheisheh refugee camp in the occupied West Bank on January 3.
The new year can be a significant time for many: of change, of resolve, of recognizing where one fell short and where they could grow. But apparently not for Israel. Israeli forces have now killed four young Palestinians in 2023; in other words, almost as many Palestinians dead as there have been days in the new year.
On Thursday, Israeli forces shot 16-year-old Amer Abu Zaytoon during a raid on Nablus in the West Bank. According to journalist Bakr Abdelhaq, residents said Abu Zaytoon was shot while walking in a refugee camp raided by the forces.
"There were armed clashes. They besieged the home of former prisoner Hassan Araysheh and then proceeded to raid it and beat family members inside, before arresting him," Abdelhaq told Al Jazeera.
On Tuesday morning, Israeli forces killed 15-year-old Adam Issam Shaker Ayyad during a raid on Bethlehem, in the southern West Bank. Ayyad was the victim of yet another Israeli raid on a refugee camp; the young boy apparently studied at a U.N.-funded school in the Dheisheh camp.
On Monday morning, Israeli forces killed two more young men in a raid in the town of Kufr Dan: Mohammad Samer Hoshiyeh, 22, and Fouad Mohammad Abed, 25. At least three others were injured in the raid, including one in critical condition.
These four young Palestinians are only part of the ongoing violence Palestinains face; headline statistics don't always include the thousands injured or the masses of demolished homes.
Last year, Israeli forces killed at least 171 Palestinians in the West Bank and occupied East Jerusalem, making it the deadliest year since the U.N. began tracking. The rate so far in 2023 outpaces that.
And without further global pressure on Israel's insistent campaign against Palestinian people, there looks to be no slowing down for their seemingly hardened resolve. The most far-right Israeli government ever has just been sworn in. A coalition led by Benjamin Netanyahu, the fifth government in four years boasts ministers like new National Security Minister Itamar Ben-Gvir, who has been convicted in the past for inciting racism and support for a terrorist group, and new Finance Minister Bezalel Smotrich, a self-proclaimed "proud homophobe" who has advocated a "shoot to kill" approach when dealing with Palestinian children throwing stones.