Report: "Death to Arabs" Was the Chant at the HQ of the "Star" of the Israeli Elections
The Israeli elections aren't just about Netanyahu. It gets worse.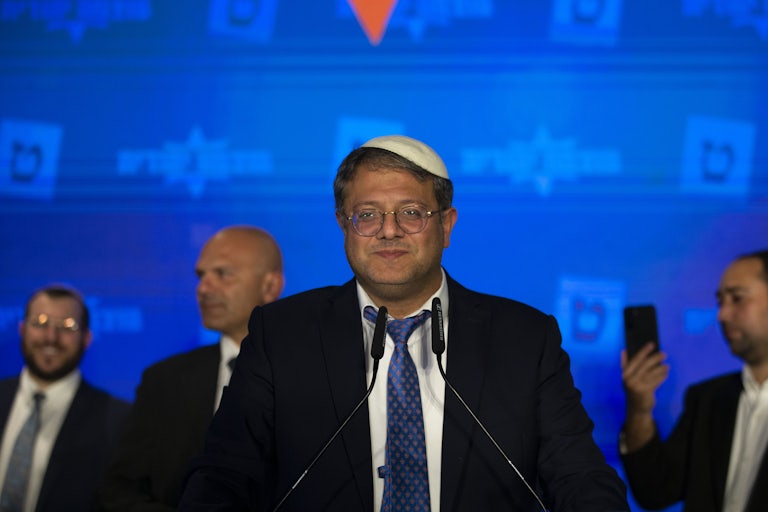 Mostafa Alkharouf/Anadolu Agency via Getty Images
Kahanist lawmaker Itamar Ben-Gvir
The main news takeaway from the Israeli elections Tuesday is that Bibi Netanyahu is apparently lined up to be prime minister again, thus avoiding prison (which some speculated was the main, Trump-like reason he ran in the first place) and sweeping back to power. His Likud Party will lead a right-wing bloc that may hold up to 65 seats in the 120-seat Knesset—a pretty substantial margin in a deeply divided country.
But scratch below the surface, and the real big news is even worse than a resurgent Bibi. The hard right coalition of small parties scored a huge win and will roughly double its representation in the parliament. Haaretz, the liberal newspaper, didn't mince words. The headline on the column by Aluf Benn, the paper's respected editor, read: "The Latest Incarnation of the Right: Kahanist Bibi-ism."
If you don't know anything about Israeli politics, consider this. Translating that headline into American terms, it might read something like: "The Latest Incarnation of the Right: Duke-ist Trumpism," Duke being David Duke, the neo-Nazi Klan leader from Louisiana. That's how bad this is. Kahanism refers, of course, to Meir Kahane, the racist, right-wing leader from the 1980s whose Kach Party was so extreme it was banned from the Knesset.
The new face of Kahanism is Itamar Ben-Gvir of the Otzma Yehudit Party, part of the Religious Zionism coalition. He has spent years spouting extremist and racist rhetoric about Arabs; last week, his party started forming an armed civilian militia in Tel Aviv to monitor Palestinian laborers. Benn referred to him as the "star" of the campaign, waving his "banner of racism and nationalism, which has also infected the Likud campaign." Haaretz also reported that according to some witnesses, the crowd celebrating Ben-Gvir's victory "chanted 'death to Arabs' alongside the more prevalent calls for 'death to terrorists.'"
The vote is only about 85 percent complete, so if the small parties of the left and center exceed their existing count in the remaining votes, the worst extremism could yet be blocked. But it appears that Israel has taken a sharp turn toward a right that's more extremist and hard-line than even Bibi.