GOP Senator Worth Up to $75 Million Attacks Bernie Sanders for Holding a Billionaire Accountable
Oklahoma Republican Markwayne Mullin attacked Bernie for holding a hearing with former Starbucks CEO Howard Schultz on union-busting.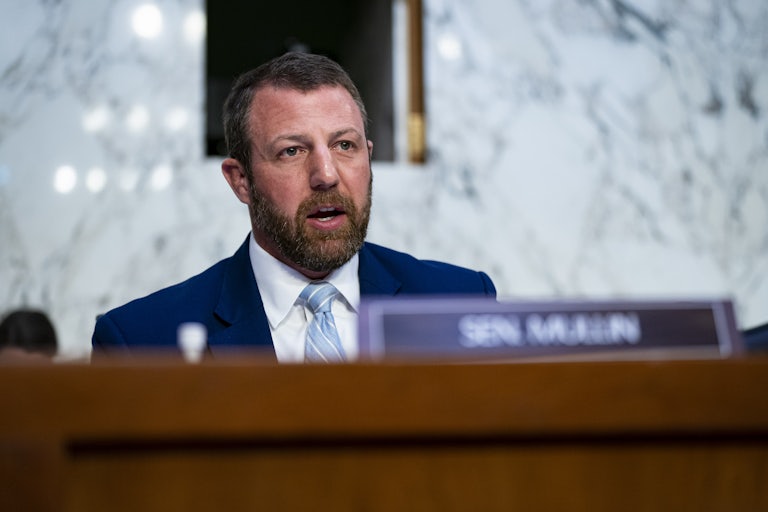 Al Drago/Bloomberg/Getty Images
Oklahoma Senator Markwayne Mullin
Oklahoma Republican Markwayne Mullin seems to think Bernie Sanders is a hypocrite for attacking Starbucks because he wrote a bestselling book that made some money.
Mullin, who earlier this month told the Teamsters union president to "shut your mouth," made the claims during a Senate hearing Wednesday with former Starbucks CEO Howard Schultz. Arguing that Sanders himself has some money after his book was published (Sanders is still nowhere close to being a billionaire), Mullin seemed to believe the Vermont senator should not be going after Schultz or Starbucks for its union-busting practices.
"Mr. Chairman, you yourself have been very successful, rightfully so, glad you have been. You've been in office for 28 years and you and your wife have immersed [sic] a wealth of over $8 million," Mullin began, incorrectly inflating Sanders' reported net worth of $3 million.

"If you can be a millionaire, why can't Mr. Schultz and other CEOs be millionaires and be honest too? If that's the case, then why is it that Mr. Schultz, who actually creates jobs—and the bestseller of a book isn't creating any jobs—why is it that he's corrupt, and you're not? Why is it that all CEOs are corrupt because they're wealthy, and yet our chairman—who is wealthy, and I'm glad you are—you're not?"
Beyond the factual errors, Mullin seemed to be entirely disinterested in the substance of the hearing at all. Why indeed can't rich people like Schultz be deemed "honest?" Well, if they are carrying out a union-busting campaign to prevent workers from being able to advocate for adequate wages and benefits—and lying about doing so—then, indeed, they could readily be deemed corrupt.
Sanders, for his part, did not play too much into the charade. After briefly countering Mullin's false claims about his net worth or that he thinks "all CEOs" are corrupt, he focused on the purpose of why they were there at all.

"What this hearing is about is whether workers have the constitutional right to form a union," Sanders said. "The evidence is overwhelming, not from me, but from the National Labor Relations Board … that time after time after time—despite what Mr. Schultz is saying—Starbucks has broken the law and has prevented workers from joining unions to collectively bargain for decent wages and benefits."
Mullin himself warrants his own level of scrutiny as to whether he is an "honest" millionaire. The Oklahoma Republican was already swimming in assets worth up to $29.9 million in 2020. The following year, his net worth exploded to be anywhere between $31.6 million and a gargantuan $75.6 million. Mullin received some $1.4 million in federal PPP loans and was among the members of Congress who helped tank the TRUTH Act, which would have required public disclosure of companies receiving those relief funds.
Mullin's implication that Sanders is somehow hypocritical to hold the rich accountable since he is wealthy is a familiar talking point from the right. Its salience is weak given that, if anything, the talking point actually proves Sanders's commitment to pursue policies even when they may impact him (like higher taxes on the wealthy).
Moreover, if Sanders is somehow in the wrong for holding fellow rich people accountable (though Schultz is worth 1,000 times as much as Sanders), what does that make rich people like Mullin who defend union-busting CEOs?