Federal Judge Orders Mike Pence to Testify on January 6 Conversations He Had With Donald Trump
Pence will have to testify in the special counsel case.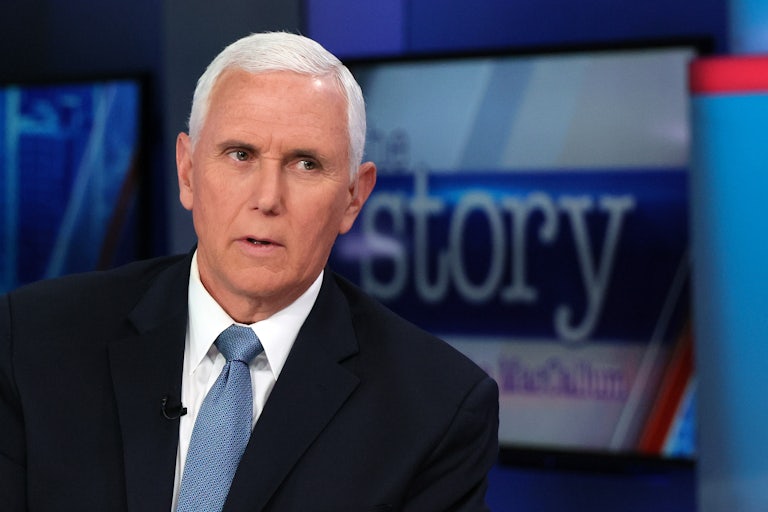 Dia Dipasupil/Getty Images
A federal judge has ordered former Vice President Mike Pence to testify in the special counsel investigation into Donald Trump.
Jack Smith was appointed in November as the special counsel to investigate Trump's role in the January 6 attack and his keeping hundreds of classified documents at his Mar-a-Lago estate. Trump has repeatedly denied any wrongdoing.
Pence, who has previously said he will refuse to testify, can decline to answer questions about his actions during the January 6 insurrection, NBC news reported. He can also appeal the ruling.
The judge's order, which is still sealed, is a major win for Smith, who has been slowly closing in on Trump and the former president's inner circle. Smith subpoenaed Pence in early February, which makes sense considering Pence is a key witness to both the events of January 6, 2021, and Trump's state leading up to them.
But Pence argued that he is protected from testifying by the Constitution's "speech or debate clause." That clause's purpose is to protect members of Congress from having things they say during legislative activities be used against them in lawsuits. Judge James Boasberg of the U.S. District Court in Washington, D.C., ruled Pence does have some limited protections but is not immune from testifying.
Pence has yet to indicate whether he will cooperate with the judge's order, but he has repeatedly refused to testify in previous January 6 investigations—despite the fact that the rioters wanted to hang him, which Trump reportedly felt was deserved.
The former vice president is reportedly considering running for the top job in 2024, so he has been hesitant to alienate Trump's base. Testifying against Trump would surely do so.
Trump has also claimed executive privilege in the investigation, but so far, his efforts to shield himself have not been going well.
This story has been updated.