Are We Supposed to Believe This Is the Text That Got Tucker Carlson Fired?
A new report says it knows exactly why the Fox host was let go, and it's a little hard to believe.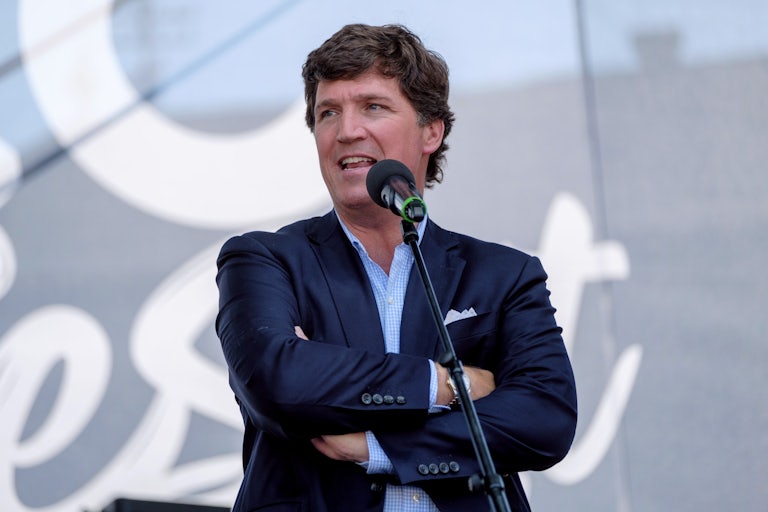 Janos Kummer/Getty Images
It seems we may finally have the text message that got Tucker Carlson fired and it's … kind of a letdown.
The former Fox News host was abruptly let go last week, with no explanation given as to why. There has been plenty of speculation, including that Carlson's private messages—many originally redacted in the Dominion Voting Systems lawsuit filings—had shown a side of him that even Fox executives couldn't stomach. Now The New York Times reports that it has the exact text that got Carlson fired.
In a message to one of his producers, sent just hours after the January 6 insurrection, Carlson said he recently saw a video of three white Trump supporters attacking an "antifa kid."
"Jumping a guy like that is dishonorable obviously. It's not how white men fight. Yet suddenly I found myself rooting for the mob … hoping they'd hit him harder, kill him," Carlson said. "Then somewhere deep in my brain, an alarm went off: this isn't good for me. I'm becoming something I don't want to be."
"The Antifa creep is a human being," Carlson continued. "I shouldn't gloat over his suffering. I should be bothered by it. I should remember that somewhere somebody probably loves this kid, and would be crushed if he was killed. If I don't care about those things, if I reduce people to their politics, how am I better than he is?"
The Times reported that this text "set off a panic at the highest levels of Fox" that ultimately contributed to Carlson's downfall.

But the thing about the latest message is that Carlson isn't saying anything that's worse than what he said every night on his show—until the end. The only way it seems possible that this message doomed him is that he ends the note by expressing concern over his own extremist views.

If what the Times is reporting is true, then as Media Matters writer Ari Drennen pointed out, it may not have actually been Carlson's vile views that got him canned.
"It was that he expressed concern about the impact of that hatred on his own brain," she said.
Take this apparent change of heart with a grain of salt: In Carlson's first appearance post-firing, he doesn't seem to have changed all that much. It also was previously reported that he was fired due to misogynistic comments. But given Fox's long history with sexual harassment in the workplace, it's unlikely that would have swayed executives. And again, none of this is too different from what he's said on air.
What's more likely is that had all of Carlson's comments come to light earlier, it would have dealt a huge blow to Fox as it tries to fend off multiple lawsuits. It's harder to argue that you don't spout hateful falsehoods or create a toxic work environment for women when your star anchor's own words show otherwise.