Dick Durbin Says Someone Should Do Something on Clarence Thomas (but Not Him)
The Senate Judiciary chair is acting like he can't do anything about the Supreme Court.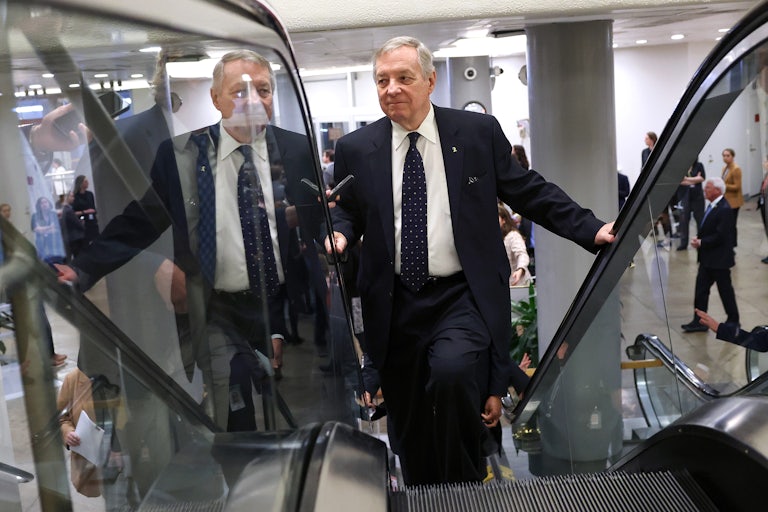 Kevin Dietsch/Getty Images
Democrats won the Senate. That enabled them to chair important committees, like the Senate Judiciary Committee, which gives Dick Durbin the power to hold the Supreme Court accountable when its justices act corruptly, like say, Clarence Thomas. Yet somehow the Illinois senator has been hard set on maintaining the illusion that he has as much power to hold Thomas accountable as we do.
"I hope that Chief Justice Roberts reads this story this morning and understands something has to be done," Durbin said Thursday of ProPublica's report that billionaire and Republican megadonor Harlan Crow has paid the tuition for a child Thomas was raising "as a son."
Durbin added that the massive and continually piling reports of Thomas's shady relationship with Crow do not rise to the level of concern that would prompt a Department of Justice probe, according to CNN.
Instead, hope seems to be Durbin's main course of action. "I hope that the Chief Justice understands that something must be done—the reputation and credibility of the Court is at stake," he also said.
"Someone should do something," says the someone with the power to do something.
Durbin is also using Senator Dianne Feinstein's absence as an excuse for why he simply can't do anything about ethics legislation.

"It's difficult, particularly because the Republicans have basically taken the position that they are opposed to this," he said Thursday.
Nevermind that Democrats can still introduce legislation and force Republicans to vote on it. Durbin and the Democrats can still pursue more formal inquiries into the justices' misdealings.
As Senate Judiciary chair, Durbin has left much to be desired. Just over a week ago, Durbin said that since Thomas would likely refuse to testify in front of the Judiciary Committee, he decided not to call for his presence at all.
"I think I know what would happen to that invitation. It would be ignored," he said, simply.
The shocking deference and abdication of responsibility has extended to the entire court, of which is rife with shady dealings.

For weeks, he has continued passing the buck to Chief Justice John Roberts to lead reform on ethics standards for the court. But Roberts himself has refused to testify before the Senate Judiciary Committee about court ethics. And how could we expect him to? After all, Roberts is implicated in ethical quandaries, as his wife has been revealed to have been paid more than $10 million by an array of high-class law firms—at least one of which has argued before her husband in the Supreme Court.
Given how much Democrats purport to care about protecting the integrity and sanctity of democracy, you'd hope that they'd jump at the five-foot-putt presented to them when a third of the Supreme Court is revealed in rapid succession to be wrapped up in varying degrees of ethical mishaps.

Sure, Durbin's point that Republicans are the main source of blame here is good and fine. But how Democrats respond is what matters. Their job is to fix the issues in our society, not simply point them out. Every single Democrat should be rallying behind investigations into the court, using every mechanism of power at their disposal to force reform.
Republicans are already being obstructive—why not challenge them to be as obstructive in full view of the public? At worst, they continue their corrupt intransigence, and Democrats benefit electorally. At best, Democrats still benefit electorally, and actually change the course of America's future. A simple request, Democrats: do your job.