Republicans' War on Wokeness is Now Coming for PBS
In Oklahoma, the Republican governor is accusing the public broadcaster of indoctrinating children.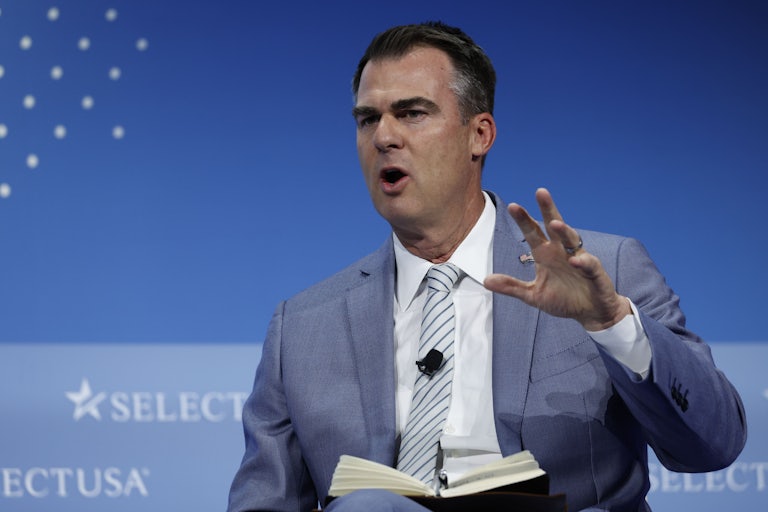 Ting Shen/Bloomberg/Getty Images
Oklahoma Governor Kevin Stitt
Oklahoma's Republican Governor Kevin Stitt doubled down Monday on his decision to veto funding for PBS, accusing the network of indoctrinating children.
Stitt vetoed a bill two weeks ago approving funding for the Oklahoma Educational Television Authority, which broadcasts PBS and PBS Kids throughout the state. OETA receives both private and public funding. It offers shows including Sesame Street, Mister Rogers' Neighborhood, Antiques Roadshow, and PBS Newshour.
When asked Monday on Fox Business to explain his decision to veto OETA funding, Stitt demanded, "Why are we using taxpayer dollars to overly sexualize or indoctrinate children with this type of programming?"
A gubernatorial spokeswoman provided "evidence" of such sexualization and indoctrination to Tulsa World the day after Stitt issued the veto, which was basically just a list of LGBTQ content. She said OETA has aired Pride Month programs in recent years, and two children's cartoons have included lesbian characters in some episodes. PBS Newshour also ran a segment in which an Indiana couple discussed how much gender-affirming care had helped their daughter.
Unless two-thirds of the state legislature votes to override Stitt's veto, OETA will shut down in about a year—which could have devastating effects for more rural parts of Oklahoma, warned Friends of OETA board member Ken Busby.
Busby told Tulsa World that OETA is crucial to the state's emergency alert system, especially for people in rural areas who don't have cable television. "Our broadcast towers are how we inform a lot of rural Oklahoma about disasters like tornadoes and thunderstorms," he said.
Republicans have been waging war on anything they deem "woke," which usually means anything that encourages freedom of thought. A major argument has been that they are trying to protect children. But as moves such as Stitt's veto show, a lot of their efforts to combat "wokeness" will actually have a detrimental effect on children's well-being.