GOP Representative Cuts Off Jamaal Bowman as He Talks About Racist Bill
Representative Virginia Foxx banged the gavel nine times as Bowman tried to discuss the problems with the bill.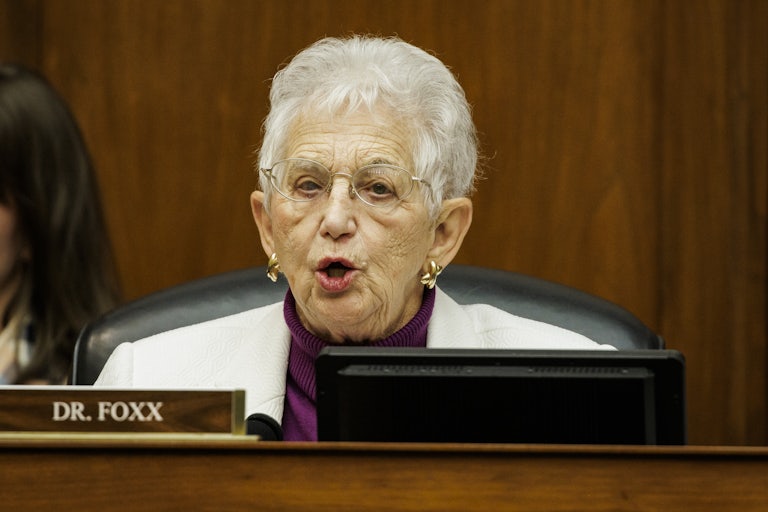 Samuel Corum/Bloomberg/Getty Images
Two weeks ago, Representative Virginia Foxx demanded Representative Maxwell Frost's comments on student debt be removed from the record. And now, this week, the North Carolina Republican is at it again, interrupting Representative Jamaal Bowman and forcing him to suspend his comments on racism in House proceedings.
In a meeting for the House Committee on Education and the Workforce on Tuesday, representatives were debating House Resolution 461, which condemns "the use of elementary and secondary school facilities to provide shelter for aliens who are not admitted to the United States." The resolution, introduced by Republican Representatives Mariannette Miller-Meeks and Brandon Williams, comes in response to lawmakers in New York and Maine merely exploring options to consider unoccupied student housing buildings as temporary options for migrants, certainly nothing that would impede students' safety or education.
Republican Representative Bob Good, however, went further, offering an amendment to the bill to strip federal funding from public schools that shelter undocumented people.
The suggestion prompted Bowman to speak in opposition, detailing how essential federal funding is for New York City schools (especially given the federal government's history of racist redlining policies that left many schools underfunded). He argued that Good's amendment "seeks to double down on prior racist policy by implementing present-day racist policies." Bowman also took issue with the suggestion that migrants are part of an "invasion," noting its white supremacist origins and associations with the racist great replacement theory.

"Now I know none of my colleagues on the other side of the aisle will admit to being racist—and I don't think they are," Bowman said. "But when you look at the rhetoric, and you hear the talking points, and look at the legislation that's put forward, what are we to say?"
In the middle of Bowman's comment, Foxx slammed the gavel nine times, demanding Bowman suspend his remarks, saying he cannot "engage in personality characterizations."

"Thank you Madam Chair, it's just very frustrating because it seems like the legislation itself engages in personalities, when it refers to a group of people that is derogatory," Bowman countered. "So if the legislation is doing it, and we're using words on the other side of the aisle like 'invasion,' as if it's an army coming to our country, is that not personalities? Thank you, and I yield back."
Foxx's reaction to Bowman's comments echoed her interruption of Frost's comments two weeks ago, which also referenced racist policies. The Florida representative argued against the conservative logic surrounding student debt, "that because there was an injustice, we can't fix it because it's unfair to those who never had it fixed, means we would never progress on any issue in this country."

"If we legislated using the logic that you bring to this issue today, women and Black folks wouldn't have the right to vote because it would be unfair to those who never got to vote before them… Why do you bring that bigoted logic to this issue as it relates to students, but not any other issue?" Frost asked.
The "bigoted logic" remarks prompted Foxx to "demand his words be taken down." Frost, like Bowman, generously heeded Foxx's outrage towards his coolly reasoned argument, before proceeding.