Elon Musk Says He Wants "Specific Examples" of Hate Speech on Twitter
The Twitter CEO seems to think there's no problem.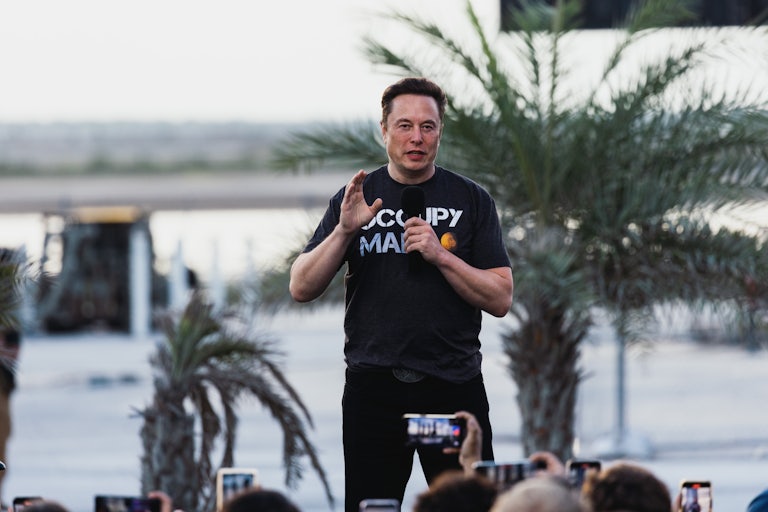 Jordan Vonderhaar/Bloomberg/Getty Images
Elon Musk insisted that hate speech and misinformation have decreased on Twitter since he took over, in a bizarre and rambling interview with the BBC.
The Tesla CEO bought Twitter in October. Since then, all hell seems to have broken loose, with Musk firing about three-quarters of all employees, gutting content moderation guidelines, and scrambling to find funds. He admitted to the BBC that it's been a "rollercoaster" and "quite painful."
But when BBC reporter James Clayton asked about an increase in hate speech on Twitter, Musk became defensive. He repeatedly asked Clayton to give him a specific example, and when the reporter couldn't, Musk said, "You don't know what you're talking about."
"You just lied," Musk said.
It's disappointing that Clayton was unprepared to offer examples, considering there are so many—including on Musk's personal Twitter profile. A report released in December by Media Matters and GLAAD analyzed tweets from nine prominent right-wing figures and accounts and found that in the first month under Musk's leadership, there was a 1,200 percent increase in retweets of posts that use the word "groomer," a homophobic slur.
The social media research group National Contagion Research Institute found that in the 12 hours after Musk bought Twitter, use of the n-word increased almost 500 percent. Musk has let Nazis back on Twitter, given blue verification check marks to the Taliban, and shared transphobic memes and Nazi photos himself.
Musk also said there is less misinformation on Twitter since he took over, due in part to his efforts to crack down on automated accounts. But a study by the WHO-backed fact-checking organization Health Feedback found that "misinformation superspreaders," or accounts that repeatedly share misinformation, have seen a major rise in popularity since Musk took over.
When asked if he prioritizes free speech on Twitter over facts, Musk—a self-described "free speech absolutist"—countered with what he probably thought was a real zinger: "Who's to say something is misinformation?" Considering his own Twitter profile is rife with conspiracy theories and misinformation, he may not know.
During the interview, Musk insisted Twitter was close to being "cash-flow positive," despite reportedly telling employees in March that the company is now worth $20 billion, less than half what he paid for it. He also claimed that his dog is now the company CEO.
So maybe things will run a little more smoothly now.