McCarthy Compares Biden to Nixon (!) in Doubling Down on Impeachment Call
One of these things is not like the other.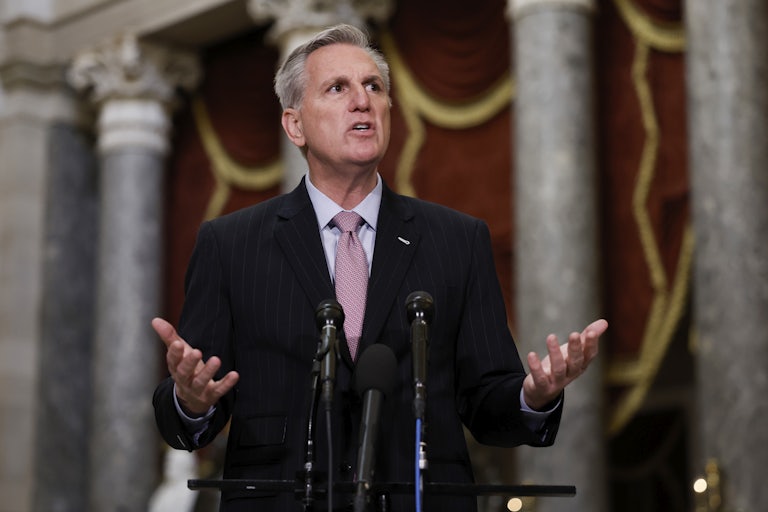 Anna Moneymaker/Getty Images
House Speaker Kevin McCarthy
Republicans have accused Joe Biden of corruption for months, despite having yet to produce a shred of evidence. But House Speaker Kevin McCarthy just escalated the bogus investigation by putting impeachment on the table.
And his justification? Biden is basically like Richard Nixon.
McCarthy accused the Biden administration of using "government much like Richard Nixon used [it] by denying us to get the information that we need."
The GOP says Biden and his son Hunter are guilty of influence peddling and accepting bribes—but again, there has been zero proof of this. Unable to come up with any evidence, Republicans also accuse the president of weaponizing federal agencies to cover up his family's crimes.

"All I'm saying is … where's the truth? You've got to get to the bottom of the truth," McCarthy told reporters Tuesday. "And the only way Congress can do that is go to impeachment inquiry that gives Republicans and Democrats the ability to get all the information."
When asked if he was caving to the far-right wing of the GOP by entertaining talk of impeachment, McCarthy insisted, "I have nothing to do about who in the party [sic]. This is about America."
Other Republicans have tried to impeach Biden before. Both Marjorie Taylor Greene and Lauren Boebert introduced articles of impeachment over Biden's handling of immigration at the U.S.-Mexico border—a sore point that led to Greene calling Boebert a "little bitch" on the House floor.
When Boebert introduced her articles in June, McCarthy called the move premature and urged his fellow Republicans to oppose it. He reportedly told lawmakers that impeachment "strengthens Biden and weakens us."
But it seems, now, the House majority leader has simply fallen in line with the rest of his party.