Federal Court Throws Out Alabama Republicans' Racist Congressional Map
The court tossed Alabama Republicans' map and ordered that a new majority-Black district be created immediately.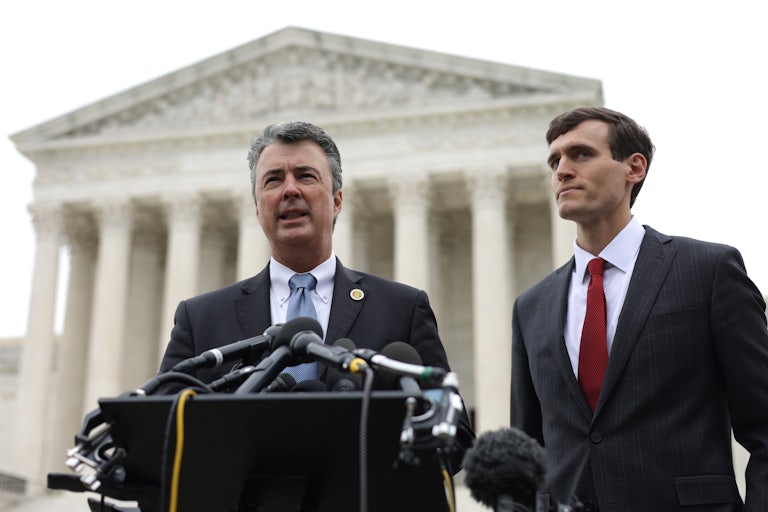 Alex Wong/Getty Images
Alabama Attorney General Steve Marshall speaks to members of the press as Solicitor General Edmund LaCour listens after the oral argument of the Merrill v. Milligan case at the U.S. Supreme Court on October 4, 2022.
A federal court on Tuesday struck down Alabama Republicans' latest discriminatory congressional map and assigned a special master to ensure the state actually creates a second majority-Black district this time around.
The Supreme Court shocked everyone in June, ruling 5–4 that Republican-drawn congressional districts in Alabama discriminated against Black voters under the Voting Rights Act. The high court ordered Alabama to redraw the map to include at least two majority-Black districts. But Alabama has repeatedly tried to redraw districts in a way that keeps the status quo and dilutes Black votes.
"Based on the evidence before us, including testimony from the Legislators, we have no reason to believe that allowing the Legislature still another opportunity to draw yet another map will yield a map that includes an additional opportunity district," the three-judge panel said in the Tuesday ruling. "We are deeply troubled that the State enacted a map that the State readily admits does not provide the remedy we said federal law requires."
"We are disturbed by the evidence that the State delayed remedial proceedings but ultimately did not even nurture the ambition to provide the required remedy."
The judges assigned a special master to oversee the remedial map. Alabama has until October 1 to finalize a new map to ensure that there is enough time to prepare for the 2024 election, according to Republican Secretary of State Wes Allen. State officials will need to reassign voters and print and distribute ballots.
More than a quarter of Alabama residents are Black, but currently only one of Alabama's seven congressional districts is majority-Black. Black voters are scattered throughout the other districts, dramatically reducing their ability to elect their preferred candidates. As a result of the racial gerrymandering, the state only has one Black representative.
Chief Justice John Roberts and Justice Brett Kavanaugh joined the three liberal justices in the June Supreme Court ruling that found Alabama's congressional map illegally diluted Black votes. Roberts wrote the majority opinion, and repeatedly rejected Alabama's arguments in favor of keeping the current map as "unpersuasive" or of "little merit."
The Supreme Court's ruling—and the outcome of the new map in Alabama—could have bigger implications across the South, and even help Democrats retake the House in 2024. Several other states including Louisiana, South Carolina, and Georgia are facing legal challenges to their racially gerrymandered districts. Those states could see a very different map in the coming election.
This story has been updated.