Supreme Court Makes It Easier for Dems to Retake the House With Voting Rights Ruling
The court's decision affects congressional district maps across the country, and a few Republicans are in big trouble.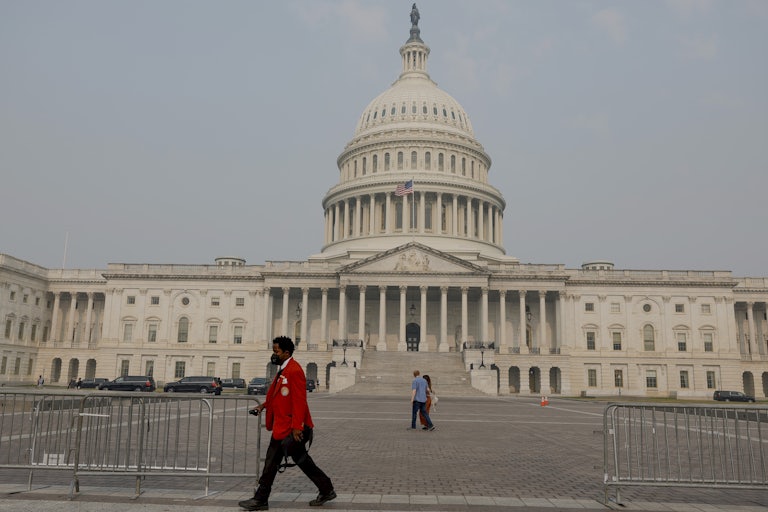 Anna Moneymaker/Getty Images
The Supreme Court's ruling Thursday that Alabama's congressional district map discriminated against Black voters could have bigger implications for several Southern states—and could help Democrats retake the House in 2024.
The biggest change and most immediate impact, obviously, will be in Alabama. But a handful of other states where racially gerrymandered districts are facing legal challenges could also see a very different map in the coming election. That includes Louisiana, South Carolina, and Georgia—and may affect races beyond that.
Democrats currently have 212 seats in the House of Representatives, and they would only need to reclaim six to retake the majority in the chamber.
Alabama
Alabama will have to redraw its map to create two majority-Black districts, which could set a precedent for rulings in the other states. There are seven congressional districts in the state, and six of them are held by Republicans.
Here are the Republican representatives who could be most in trouble from the redistricting:
Jerry Carl

Barry Moore

Mike Rogers
Georgia
Georgia Democrats lost a seat to Republicans during the 2022 midterms after the state GOP redrew the 6th district to include more conservative, majority-white areas. A judge could rule later this year that the new map illegally dilutes the Black vote and needs to be redrawn. The Republicans who could be at stake are:
Barry Loudermilk

A. Drew Ferguson
Louisiana
The Supreme Court previously blocked a lower court's ruling to redistrict Louisiana to include a second majority-Black district, until it could issue its Alabama ruling. And now that we have a decision on Alabama, Louisiana will likely also have to redraw its maps to stop diluting the Black vote. That means Republicans who might lose their seats are:
Garret Graves

Julia Letlow
South Carolina
The Supreme Court agreed to hear the challenge to a South Carolina court ordering the state to redraw its 1st district.

Good luck to Nancy Mace.