Alito to Congress: You Have No Business Snooping Into Our Ethics
The Supreme Court justice is warning Congress to give up its attempts to impose a code of ethics on the court.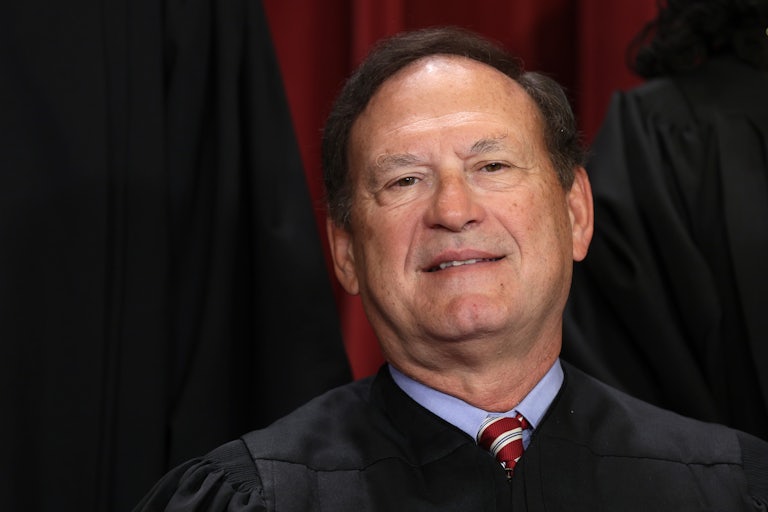 Alex Wong/Getty Images
Supreme Court Justice Samuel Alito
Supreme Court Justice Samuel Alito has a warning for Congress: Stop trying to do anything about corruption on the court.
Last week, the Senate Judiciary Committee advanced a bill that would require the justices to adopt a code of ethics. According to Alito, Congress has no "authority" to do any such thing.
"Congress did not create the Supreme Court," he told The Wall Street Journal in an interview published Friday. "I know this is a controversial view, but I'm willing to say it," he continued. "No provision in the Constitution gives them the authority to regulate the Supreme Court—period."
Asked whether the other justices agree, he said: "I don't know that any of my colleagues have spoken about it publicly, so I don't think I should say. But I think it is something we have all thought about."
Alito's comments are particularly brazen for two reasons.
First, he is one of the justices recently caught in a major ethics scandal. Last month, ProPublica reported that he accepted a luxury vacation from Republican billionaire megadonor Paul Singer, which included flying on Singer's private jet to Alaska and then staying for free in a fishing lodge that cost $1,000 a night. Alito didn't disclose the vacation and later ruled on a case that Singer had before the court. Right-wing activist Leonard Leo helped organize the whole thing.
Second, Alito's reading of the Constitution is particularly twisted. Here's what Article III, Section 2 of the Constitution actually says:
In all Cases affecting Ambassadors, other public Ministers and Consuls, and those in which a State shall be Party, the supreme Court shall have original Jurisdiction. In all the other Cases before mentioned, the supreme Court shall have appellate Jurisdiction, both as to Law and Fact, with such Exceptions, and under such Regulations as the Congress shall make.
An unelected, lifetime-appointed Supreme Court justice, caught in a major ethics scandal, believes that Congress has no authority to do anything about it. How convenient.