Republicans Are Really Trying to Compare Jamaal Bowman to January 6 Rioters
Republicans' latest attack on Jamaal Bowman is insane, even for them.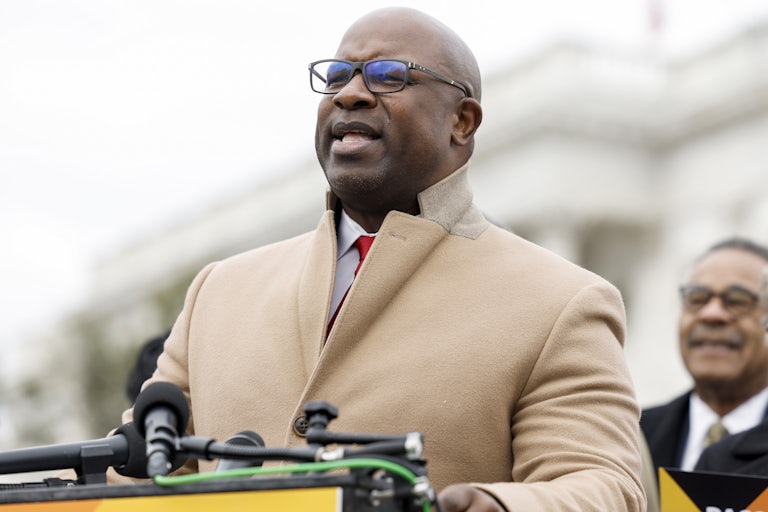 Anna Moneymaker/Getty Images
Representative Jamaal Bowman
Republicans are continuing their campaign to downplay the January 6 insurrection, this time by comparing the violent riot to Representative Jamaal Bowman pulling a fire alarm.
On Saturday, while Congress was in session and moving to a vote on a bill that would prevent a government shutdown, Bowman pulled the fire alarm in Cannon House, an office building connected to the Capitol building by a tunnel. Bowman has since apologized and said it was an accident.

But still, Republicans have pounced—accusing the New York representative of basically committing an insurrection.
House Speaker Kevin McCarthy called for Bowman to be punished like the January 6 insurrectionists, and remarked on the precedent of "how other people were treated when they come in and wanted to change the course of what was happening in the building."
Donald Trump also called for Bowman to be jailed for his "egregious act" of pulling the alarm. In a post on Truth Social, the former president said that Bowman should be charged with "'Obstruction of an Official Proceeding,' the same as used against our J-6 prisoners."

"Actually," Trump wrote, "his act may have been worse."

The comparison seems distinctly detached from reality. Trump faces the same charge as many of the rioters he called to the Capitol on January 6: obstruction of an official proceeding. (That doesn't include the other 90 criminal counts Trump is facing.)
Republican Representative Nicole Malliotakis also took to X, formerly known as Twitter, on Saturday afternoon to say she planned to introduce a resolution to expel Bowman. "This is the United States Congress, not a New York City high school," she said in a post.
Fox News has eagerly fomented an entire news cycle about the incident, speaking to multiple Republican lawmakers about it.
"It's not just the act of pulling a fire alarm," Malliotakis said on Fox. "It was during an official proceeding. That is the same thing that they have gone after those individuals who walked into the Capitol on January 6th."
Republican Representative Mike Lawler told Fox News that the event was "absolutely outrageous" and "potentially criminal." He went so far as to say that Bowman should "strongly consider resigning."
But despite Republicans' best efforts to push this new attack, the two cases are extremely different.
For one, Bowman has apologized and insisted that he accidentally pulled the alarm when a door that normally opened was suddenly locked.

"I am embarrassed to admit that I activated the fire alarm, mistakenly thinking it would open the door. I regret this and sincerely apologize for any confusion this caused," Bowman said.

But more importantly, a fire alarm is nowhere near the same as an armed insurrection.