Elon Musk Wants to Destroy the Media
By suing Media Matters, Musk is sending a message to news outlets: Cover him critically, and risk destruction.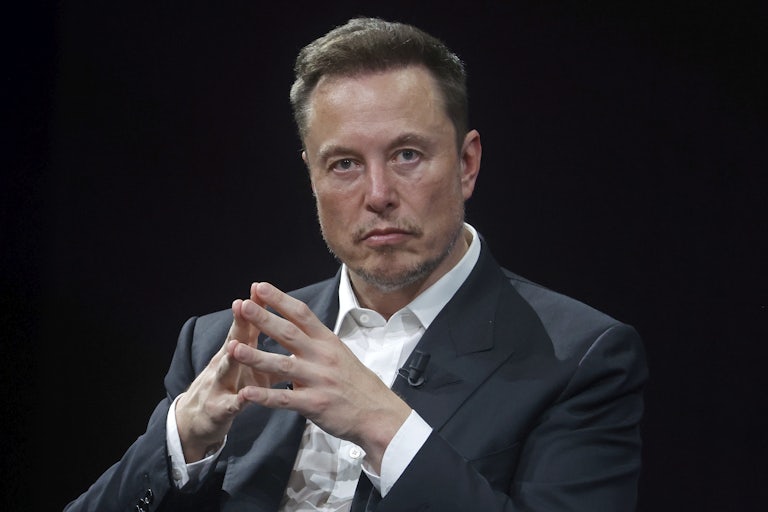 Photo by Chesnot/Getty Images
Elon Musk, plotting something stupid in June
Elon Musk is going scorched earth on Media Matters after the news watchdog revealed that X (the social media network formerly known as Twitter) was placing ads from reputable companies alongside antisemitic, pro-Nazi posts.
On Monday, Musk filed a lawsuit against the company in a U.S. District Court in Texas, alleging that the publication defamed his platform by publishing its investigation.

The report's explosive findings resulted in the mass hemorrhage of some of X's biggest and markedly safe advertisers, such as Apple, IBM, Disney, Lionsgate, and Paramount.

"​​The overall effect on advertisers and users was to create the false, misleading perception that these types of pairings were common, widespread, and alarming," the lawsuit reads. "Media Matters hid its manipulations through omissions, deceptive image selections, misrepresentations, and secrecy settings."

In a legal complaint, the company argued that the Media Matters investigation "exploited" the platform's features and algorithm in order to "force a situation in which a brand ad post appeared adjacent to fringe content."

X CEO Linda Yaccarino, who has faced immense pressure to resign as chief executive amid the scandal, said she's siding with the company. "If you know me, you know I'm committed to truth and fairness. Here's the truth," Yaccarino said.
"Not a single authentic user on X saw IBM's, Comcast's, or Oracle's ads next to the content in Media Matters' article. Only 2 users saw Apple's ad next to the content, at least one of which was Media Matters. Data wins over manipulation or allegations. Don't be manipulated. Stand with X."
On Monday, Texas Attorney General Ken Paxton announced that his office was opening an investigation into the publication's report, claiming he was "extremely troubled" by allegations that Media Matters had manipulated data on the social media platform.

Missouri Attorney General Andrew Bailey, who introduced an emergency rule earlier this year to ban health care for transgender adults in his state, also joined the legal charge, posting that his team "is looking into this matter."

"Great!," responded Musk.

Media Matters appeared unthreatened by the challenge, shrugging off the lawsuit in favor of standing behind its reporting. "This is a frivolous lawsuit meant to bully X's critics into silence," Media Matters' president, Angelo Carusone, told Reuters in an emailed statement.
After Musk initially threatened the lawsuit on Friday, Carusone called Musk a "bully who threatens meritless lawsuits."

"Musk admitted the ads at issue ran alongside the pro-Nazi content we identified. If he does sue us, we will win," Carusone said.