Ron DeSantis's Racism Just Won Him a Big Lawsuit in Florida
The Florida chapter of Students for Justice in Palestine is suing Governor Ron DeSantis for violating free speech rights.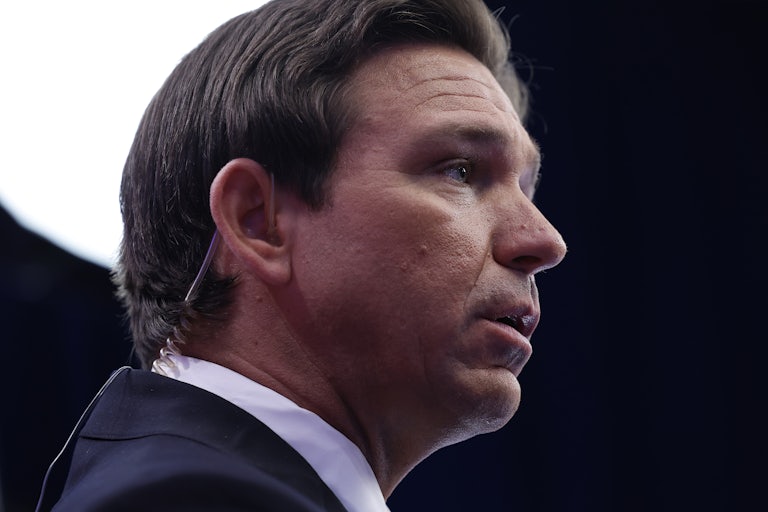 Anna Moneymaker/Getty Images
A Palestinian student advocacy group is taking to the legal system to fight back against Florida Governor Ron DeSantis's efforts to kick them off student campuses.
On Thursday, the University of Florida chapter of Students for Justice in Palestine announced that it is suing DeSantis, Chancellor Ray Rodrigues, University of Florida President Ben Sasse, and other university leaders for "violating their [First] Amendment rights," according to a statement by the nonprofit Palestine Legal.
The lawsuit, filed by Palestine Legal and the American Civil Liberties Union, stems from an unusual action taken by the state government last month, in which Rodrigues issued a letter calling for all chapters of the pro-Palestine group to be "deactivated," claiming that they were providing "material support" to a "terrorist organization."

Florida State's chapter, however, argues that it has little to do with the national group or the statements it makes, according to the lawsuit.
SJP has just two chapters left in all of Florida: Florida State University and the University of North Florida.
"As students on a public college campus, we have every right to engage in human rights advocacy," said Florida State's chapter in a statement. "We know we have First Amendment rights in school and we're bringing this lawsuit to make sure the government doesn't silence us or others like us."
Florida's suppression of the local chapter is part of a larger national crackdown on the Palestinian advocacy group. Last month, the Anti-Defamation League and the Brandeis Center, both Jewish nonprofits, issued letters to nearly 200 university presidents across the country calling for an investigation into Students for Justice in Palestine.
Meanwhile, DeSantis has made his own stance on the protests abundantly clear.
On November 8, at the GOP presidential debate in Miami, DeSantis bragged that he had "deactivated" the group.

"We're not gonna use tax dollars to fund jihad," he said.
DeSantis also used the platform to openly threaten international students here on visas.
"If you are here on a student visa as a foreign national, and you're making common cause with Hamas, I'm canceling your visa and I'm sending you home, no questions asked," said DeSantis.
"Local chapters of student groups cannot be punished for their association with national organizations—nor can the government selectively punish and censor student groups for engaging in speech it doesn't like or agree with," said Palestine Legal.