Ron DeSantis Thinks Elon Musk is the Real Victim
The Florida governor comes to Musk's defense after the X founder agreed that Jews "push hatred" against white people.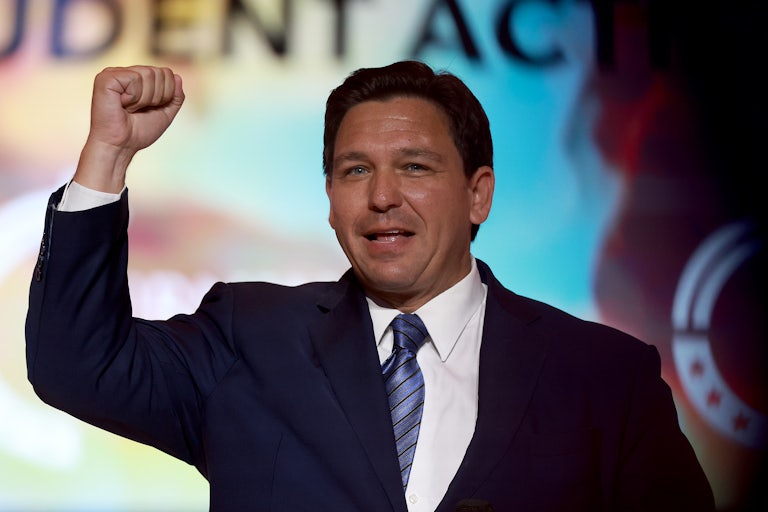 Photo by Joe Raedle/Getty Images
Florida Governor Ron DeSantis in 2022
Asked about X (formerly Twitter) owner Elon Musk's antisemitic comments, Florida governor and struggling Republican presidential candidate Ron DeSantis shrugged.
During a Sunday interview on CNN, anchor Jake Tapper asked DeSantis if he condemned Musk's comments. DeSantis insisted that he "did not see the comment"—despite the fact that Musk's claim that Jews "push hatred" against white people had sent advertisers fleeing the platform.

"I know that Elon has had a target on his back ever since he purchased Twitter, because I think he's taking it in the direction that a lot of people who are used to controlling the narrative don't like," the presidential hopeful said.
Tapper then read Musk's tweet aloud, and DeSantis replied that he is concerned about antisemitism "across the board." He pointed to recent legislation he signed to combat antisemitism on Florida college campuses. His efforts have resulted in a lawsuit for allegedly violating the First Amendment.
The University of Florida chapter of Students for Justice in Palestine announced last week that it is suing DeSantis and university leaders for shuttering the group. University Chancellor Ray Rodrigues claimed that SJP provides "material support" to a "terrorist organization," which the chapter says is untrue.

Later in Sunday's interview, Tapper pointed out that DeSantis still hadn't actually condemned Musk's comments. DeSantis hedged once more.
"I know you tried to read it, I have no idea what the context is," he said. "I know Elon Musk. I have never seen him do anything. I think he's a guy that believes in America. I have never seen him indulge in any of that. So it's surprising if that's true, but I have not seen it. So I don't want to sit there and pass judgment on the fly."
An X user posted last week that Jewish communities have pushed "diabolical hatred against whites," a neo-Nazi talking point. Musk replied, "You have said the actual truth." About an hour later, he tried to claim he was only criticizing the Anti-Defamation League, a Jewish nonprofit Musk has threatened to sue for monitoring hate speech on X. (ADL head Jonathan Greenblatt came to Musk's defense over the comments, thanks in large part to his support for Israel.)
The next day, a report published by Media Matters found that X has been placing ads for brands including Apple, Bravo, IBM, Oracle, and Xfinity next to posts that promote Hitler and Nazi beliefs.
Advertisers have fled the site in the wake of Musk's comments and revelations that ads have been displayed on hateful, antisemitic posts.
Meanwhile, marketing leaders have started to urge X CEO Linda Yaccarino to resign. Yaccarino, who used to chair NBCUniversal's global advertising division, was hired to help steady X from Musk's tumultuous reign and woo advertisers back to the platform.
But now her former peers are warning her that she risks doing permanent damage to her reputation if she stays on.
"The issue is no longer about content adjacencies or content moderation," Lou Paskalis, the founder and CEO of marketing firm AJL Advisory told Axios. "It's simply that the owner is not someone marketers can do business with."