Most Americans Want a Cease-Fire in Gaza. Most of Congress Still Doesn't.
Here is a very short list of every member of Congress who has called for a cease-fire amid Israel's war on Gaza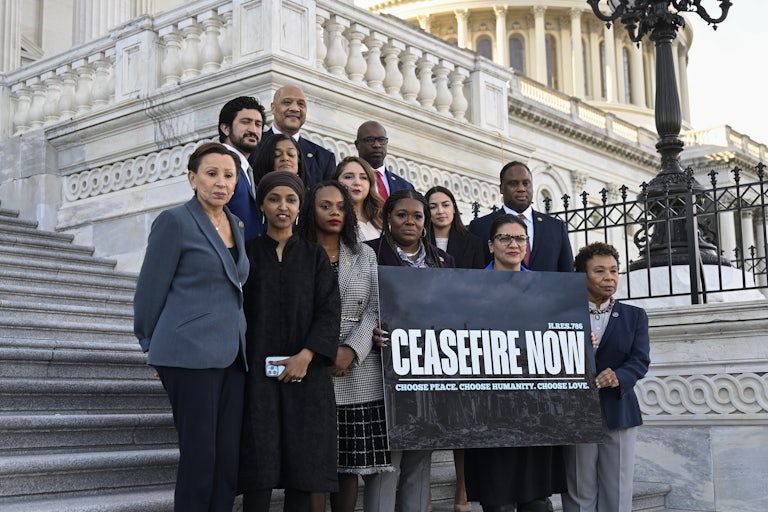 Celal Gunes/Anadolu/Getty
Several representatives open a banner demanding a cease-fire and condemning the Israeli attacks on Gaza, in front of the Capitol on November 8.
Public support for Israel's military barrage of the Gaza Strip is crumbling. The vast majority of Americans believe that their country should support a cease-fire in the escalating conflict, which so far has killed more than 12,000 Palestinians—more than half of them women and children—and 1,200 Israelis.
Sixty-eight percent of respondents agreed that Israel should call for a cease-fire and try to negotiate, according to a Reuters/Ipsos poll conducted between November 13 and 14.
Meanwhile, just 32 percent of respondents said that the "U.S. should support Israel," a 9 percent drop from October's polling results.
But do U.S. politicians agree with the American people?
So far, only 45 representatives out of 435 members of the House of Representatives and four senators out of 100 Senate members have called for a cease-fire. They include:
House
Senate
Senator

Dick Durbin

(D-IL)

Senator

Jeff Merkley (D-OR)
Senator Elizabeth Warren (D-MA)
Senator Peter Welch (D-VT)
Senator Peter Welch, the other senator from Vermont, is the latest addition to this list, joining the call for a cease-fire on Tuesday.
More than 500 political appointees and members of President Joe Biden's staff have signed a joint letter calling for an immediate cease-fire.
"The overwhelming majority of Americans support a cease-fire. Furthermore, Americans do not want the U.S. military to be drawn into another costly and senseless war in the Middle East," read the letter.
This article was updated on November 28.