We Have New Details About the U.S. Carbon Trading Plan (and It's Still Confusing)
File under: Answers that only raise more questions.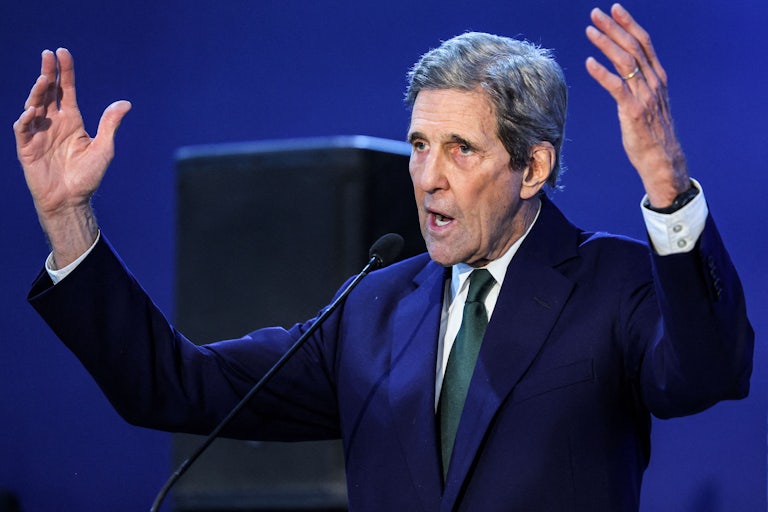 Ahmad Gharabli/Getty Images
Earlier this week I wrote about a carbon trading scheme floated by international climate envoy John Kerry for financing renewable energy development in developing countries. As we learned on Wednesday, it's going to be called the Energy Transition Accelerator, or ETA—not to be confused with the Energy Transition Accelerator Financing Platform, or ETAF, launched last year at COP26 by the International Renewable Energy Agency, the United Arab Emirates, and the Abu Dhabi Fund for Development.
Details are still very much being worked out, but new ones furnished on Wednesday haven't added much more clarity. The ETA is to be a public-private partnership between the U.S. government, the Rockefeller Foundation, and the Bezos Earth Fund, which intends "to catalyze private capital to accelerate the clean energy transition in developing countries" through at least 2030. Per an official announcement:
Chile and Nigeria are among the developing countries expressing early interest in exploring the ETA's potential benefits. Bank of America, Microsoft, PepsiCo, and Standard Chartered Bank have also expressed interest in informing the ETA's development, with decisions on whether to formally participate pending the completion of its design. The ETA will also be open to sovereign government investments and engagement.
National and subnational governments (regions, cities, etc.) can package their renewable energy and climate resilience plans into credits to be bought by major corporations. As in similar carbon trading schemes, the ETA would allow credit buyers to offset their own emissions by financing reductions elsewhere. Officials also argue it'll help unlock even more private-sector financing. "By providing jurisdictions with fixed-price advance purchase commitments for verified emission reductions, the ETA will create a predictable finance stream that can unlock upfront private finance at more favorable rates," the announcement continues. Participating jurisdictions "will include social safeguards and benefits to local economies, including support for job creation and training."
There are more than a few well-documented problems with offsetting schemes: For one, they're fertile ground for scams. The system for validating which credits actually correspond to real emissions reductions in the voluntary carbon market is still something of a regulatory Wild West, ruled by a small handful of private actors.
The ETA could also be courting its own unique set of challenges. Renewable energy projects are often developed by third-party companies that are contracted out by for-profit or public utilities. The result could be a kind of Rube Goldberg contraption for financing clean energy development: Big companies in wealthy countries will buy up credits for projects to count toward their climate goals developed by some third-party contractor abroad. Fossil fuel companies won't be allowed to participate—at least for now.
Among the organizations to be consulted is the Science-Based Targets Initiative, a Bezos Earth Fund donation recipient that recently came under fire over governance and transparency issues, including its practice of collecting fees from companies to verify that their net-zero plans are legit.
Needless to say, climate justice advocates who've been asking the U.S. to put up actual money toward climate finance weren't exactly thrilled by Kerry's innovation/rehashing of a 40-year-old idea with a patchy (at best) track record. Even the U.N. secretary-general's staff and some European nations were reportedly cool to the idea.
Can't win 'em all!