Supreme Court Says January 6 Committee Can Get Kelli Ward's Phone Records
Things aren't looking good for Team Trump.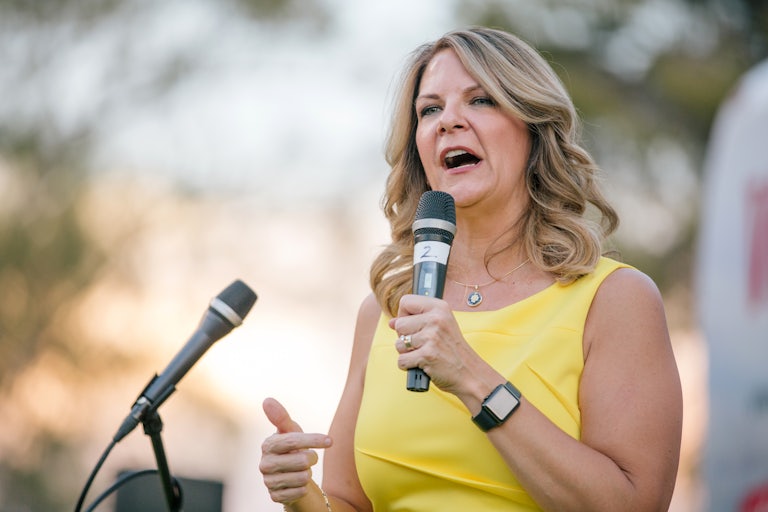 Caitlin O'Hara/Bloomberg/Getty Images
The U.S. Supreme Court on Monday denied a motion by Arizona Republican Party Chair Kelli Ward to block the House January 6 committee from accessing her phone records.
Justice Elena Kagan on October 26 had temporarily blocked a subpoena from the committee investigating the January 6 riot from accessing Ward's phone and text records. Ward is accused of working with former President Donald Trump to organize a group of fake presidential electors who would help prevent the transfer of power to Joe Biden.
Although Kagan's ruling initially looked like a win for Team Trump, she denied the motion a few weeks later.
Justices Samuel Alito and Clarence Thomas—whose wife, Ginni Thomas, is also being investigated for allegedly trying to overturn the 2020 election results—said they would have granted Ward's request.
The January 6 committee is slowly closing in on Trump's inner circle. South Carolina Senator Lindsey Graham and Trump's former chief of staff Mark Meadows have been ordered to testify about their efforts to interfere with election results.
Former Trump adviser Stephen Bannon was sentenced to four months in prison for refusing to testify before the committee, and Trump himself has sued to block a subpoena for his testimony.

It is unclear what the committee will do if Trump fails to comply.