Mike Pence: Trump is "Part of the Problem," January 6 Behavior Was "Reckless"
The former vice president's comments come as Trump is expected to announce his 2024 presidential bid.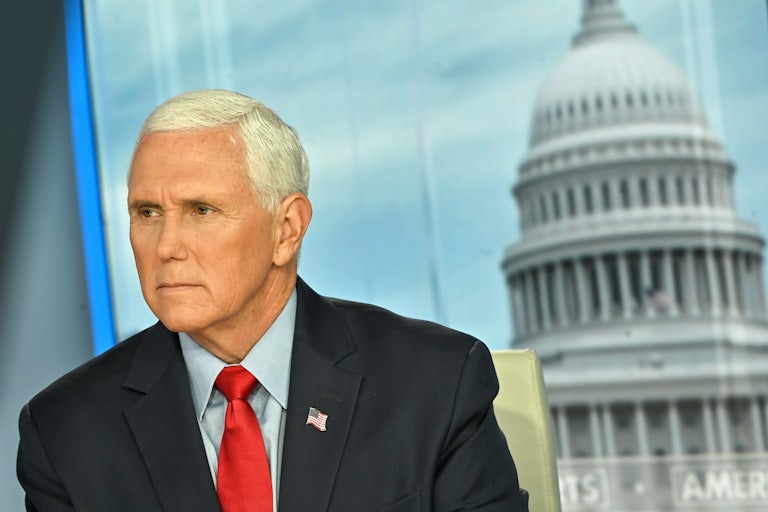 Shannon Finney/Getty Images
Former Vice President Mike Pence called then-President Donald Trump "reckless" with his response to the January 6 riot, saying Trump "endangered me and my family and everyone at the Capitol building."
Pence's comments came during an interview Sunday night with ABC's David Muir, just two days before Trump is expected to announce his 2024 bid for president.

Trump had been incensed at Pence, who oversaw Congress's certification of Electoral College results, for not going along with his attempts to overturn the 2020 election. While Pence and other officials were barricaded inside the Capitol on January 6, Trump tweeted, "Mike Pence didn't have the courage to do what should've been done."
On the tweet, Pence said: "It angered me, but I turned to my daughter, who was standing nearby, and I said, 'It doesn't take courage to break the law. It takes courage to uphold the law.'"
Pence's comments are part of a longer series of attempts to both express his disapproval for Trump yet still maintain favor with the party.
Last week, Pence penned an op-ed in The Wall Street Journal recounting the chaotic aftermath of the 2020 election. In it, he described his repeated attempts to follow constitutional order in not overturning election results, and yet still in a charming conclusion he tells Trump, "I'm also never gonna stop praying for you."
And Trump, Pence writes, smiles right back, saying "That's right—don't ever change."
The heartwarming moment came after Trump leveled threats toward Pence and incited a riot of insurrectionists who sought to hang the former vice president.

Pence's piece came from his forthcoming memoir, set to be released on Tuesday. In the memoir, Pence also attacks Trump on his handling of the 2017 neo-Nazi march in Charlottesville, the investigations into Russian election interference, and both instances when Trump faced impeachment.
Also on Tuesday, Trump is expected to announce his third consecutive bid for the presidency.
Trump will likely continue with his announcement, in spite—or perhaps especially because—of Pence's press tour and a broader party establishment raring to get rid of the former president after a disappointing midterm showing.

Though Trump-endorsed candidates fared poorly in the midterms, he still commands popularity among a broad swath of the Republican electorate. With Pence's comments coming on the brink of Trump's announcement—while Ron DeSantis enjoys large favor with the party establishment—the race for 2024 has officially begun.