You Can Thank Progressives for Forcing a Vote on Paid Sick Leave for Rail Workers
At the eleventh hour, progressive House members forced a vote on paid sick leave for rail workers.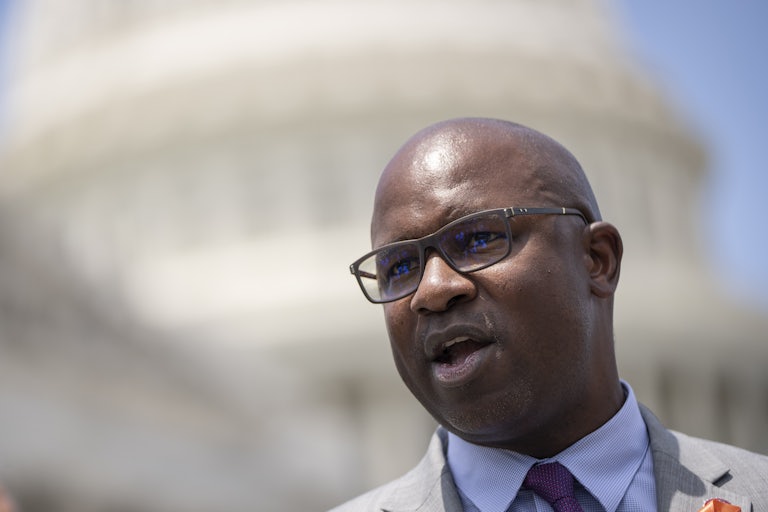 Drew Angerer/Getty Images
The House voted Wednesday to force the end of a rail workers' strike and, thanks to progressive lawmakers, also to give workers needed paid sick leave.
Four out of 12 rail unions—representing the majority of rail workers—have been threatening to strike, after a labor deal brokered by President Joe Biden failed to meet their demands for paid sick leave. Workers currently get zero paid sick days. Biden, who has touted himself as a "pro-labor president," called for Congress to impose the deal anyway and block the strike, saying it would cause too much economic damage.
But in the eleventh hour, progressive Representative Jamaal Bowman submitted an amendment to the bill that requires the addition of seven days of sick leave.
Other progressives, such as Alexandria Ocasio-Cortez and Cori Bush, also pushed for the change.
"Every single worker in America needs paid sick leave, including our invaluable rail workers. Anything other than that is unacceptable" Bowman said in a statement. "I could not in good conscience vote for a bill that doesn't give rail workers the paid leave they deserve."
He urged the Senate to follow suit and approve the amendment.
Bush said the last-minute amendment was possible when Democratic "leadership realized that they weren't going to have the votes to pass a bill without this addition, and they came to the table and we negotiated an agreement."
She added that House progressives were working with Senator Bernie Sanders to get the amended bill passed.
It is unclear if the paid sick leave amendment will pass the Senate, though there are some signs for hope. Sanders had said separately he intended to demand a roll-call vote on an amendment to include seven sick days. Republican Senator John Cornyn said he thought there might be enough GOP support for such an amendment for it to pass.
Joe Manchin, who represents West Virginia—a state with small but still strong union membership—said he would need to review a seven-day amendment. But the senator, who has become known for consistently throwing a wrench into Biden's plans, said he'll vote for "anything to prevent a strike that will enhance inflation and cause economic harm to our country."
Rail unions and management have been negotiating for months, but with inflation still high and the holiday spending season looming, Biden finally stepped in earlier this week.
"Joe Biden blew it," Rail Workers United Treasurer Hugh Sawyer said in a statement Tuesday. "He had the opportunity to prove his labor-friendly pedigree to millions of workers.… Sadly, he could not bring himself to advocate for a lousy handful of sick days."
Let's see if the progressives can pull through.
This article was updated with a statement from Representatives Bowman and Bush. It has also been edited to clarify the power of unions in West Virginia.