George Santos: I've Lived an "Honest Life," and Also Don't Ask Me Where My Money Came From
The New York representative refused to answer where he got the $700,000 he loaned to his own campaign.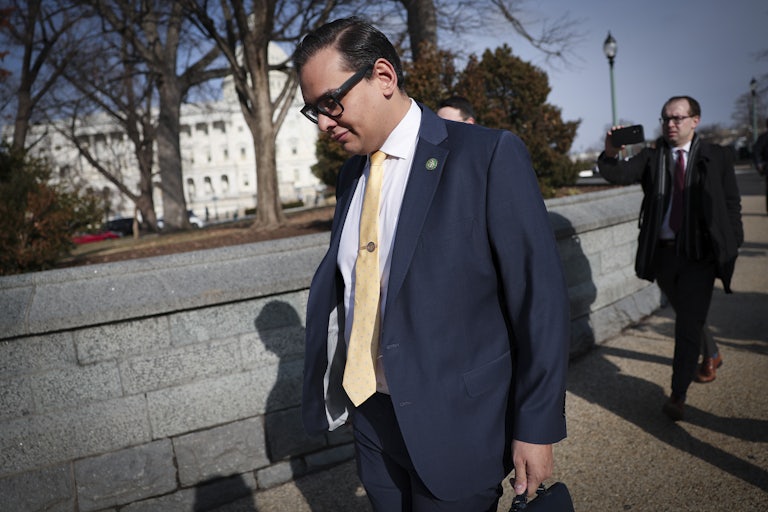 Win McNamee/Getty Images
Among George Santos's many lies and embellishments and cover-ups is how, exactly, he came into so much money so quickly.

Just a few years ago, Santos claimed no major assets and a $55,000 salary. Two years later, his net worth skyrocketed and he apparently boasted a nearly seven-figure salary and millions in dividends. He even loaned some $700,000 to his campaign. Santos has thus far refused to answer where this inordinate amount of money actually came from, especially so quickly. And on Thursday, while speaking on friendly territory, he still avoided the question.
On Steve Bannon's War Room program, guest host and Santos's colleague Representative Matt Gaetz asked Santos about the $700,000.
"I'll tell you where it didn't come from. It didn't come from China, Ukraine, or Burisma," Santos quipped with a grin. "How about that?"
Santos has claimed a net worth as high as $11.5 million—all from the newly formed Devolder Organization from which Santos claimed to receive a $750,000 salary and between $1 and $5 million in dividends. Gaetz followed up on Santos's quip, giving him an easy out to offer any simple explanation for where the money came from. Instead, Santos remained cryptic and even more dishonest.
"Look, I've worked my entire life. I've lived an honest life. I've never been accused—sued—of any bad doings," Santos said, contributing yet another lie to his already massive pile. "You know, it's the equity of my hardworking self that I've been invested inside of me," he continued, nonsensically.

"Like I said, it didn't come from Burisma, it didn't come from Ukraine, Russia, China—unlike some folks that we all know that get money from those sources," Santos concluded, relieved to somehow have stumbled his way to the end of his vacuous sentence.
Gaetz marched forward with the conversation, perhaps with second-hand embarrassment after watching Santos fumble even the most generous layup opportunity.