40 Migrants Died in Detention Center Fire Because They Couldn't Afford to Bribe the Guards
The extortion scheme was revealed in a new report by Vice.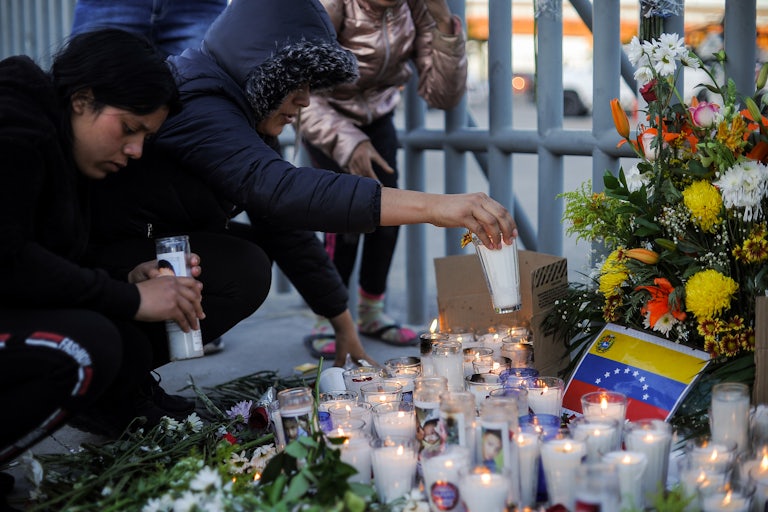 Juan Ortega/Getty Images
People set candles in memory of the migrants killed in a fire last month at an immigration detention center in Ciudad Juárez, Mexico.
Late last month, a disastrous fire at an immigration detention center near the U.S. border in Ciudad Juárez, Mexico, left 40 people dead. And it turns out, the migrants were stuck there because they couldn't pay a $200 bribe to guards to be released, according to Vice.
The revelations come after a video from the facility showed guards seeming to walk away from migrants burning to death behind bars.
Three survivors and two guards at the facility told Vice that the detention center was essentially an "extortion center," where only migrants who could pay were released. Joan, a Venezuelan migrant who was locked up there, said he was released not long before the fire because his family back home sent money in time for the guards' 7 p.m. deadline to pay a bribe or be deported. "I'm only alive because my family paid," he told Vice.
Guards told Vice that the extortion payments (up to $500) were split among the guards and that they also sold cigarettes, lighters, and "drugs of all kinds" to the detained migrants. "We weren't forced or anything like that to be part of the scheme, but if you said anything to the managers or didn't go along with it, little by little they would push you out of a job," said one guard. The guards admitted that the sales could have helped lead to the fire in the first place.
Vice reported that at least one migrant allegedly started the fire in protest of not being given food and water for some 10 hours. Mexico President Andrés Manuel López Obrador said the fire began after migrants reportedly lit their mattress on fire in protest as they feared imminent deportation. Mexico's chief public security secretary, Rosa Icela Rodríguez, said that the detention center would be closed and that its operator "will no longer provide services in the state of Chihuahua—where Ciudad Juárez sits."
The tragedy came following a hard-right turn from the White House on immigration. Last month, President Biden announced a proposal to bar certain migrants from attaining U.S. asylum access and to expedite deportations of those migrants more quickly—without even giving them a chance to appear in front of an immigration judge. The Trump-like proposal violates U.S. law that grants the right to anyone physically present in the country to seek asylum, regardless of one's status.
As Felipe De La Hoz wrote in TNR:
It may be a rehash of a Trump-era policy, but it is now a Biden-era policy. It has been drafted, issued, and will likely be defended in court fully at the direction of Joe Biden and his Cabinet. Not only that, it is a rehash of a policy that was rejected already by the courts, with the earlier transit ban having been struck down by a district court, a ruling reaffirmed by a three-judge appeals court panel, and then ultimately vacated.… In any case, now we know—finally and clearly—where Biden stands on the matter, and how that stance has ensured the lasting impact of Trump's asylum machinations.