Trump's Record of Failure and Lawbreaking Fails to Deter GOP Endorsements
Here is a list of every member of Congress and every governor who has endorsed the twice-impeached, criminally indicted former president.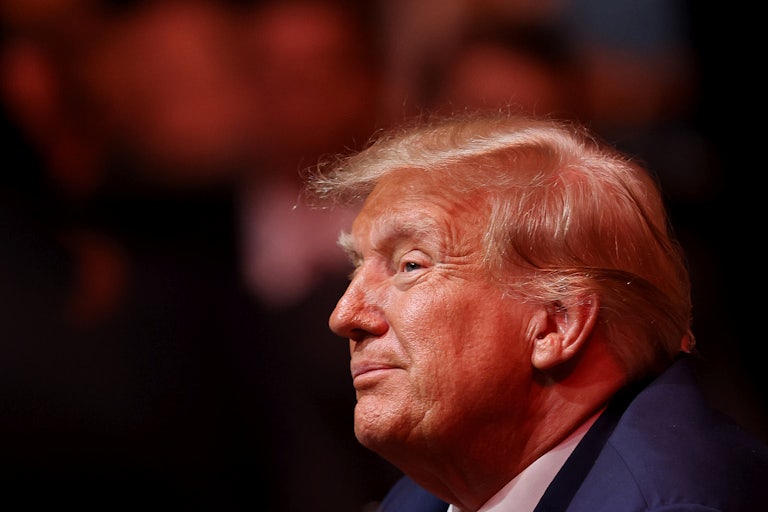 Carmen Mandato/Getty Images
Donald Trump has been impeached twice. He has lost the popular vote twice. He has been found liable for sexual abuse and defamation. He is the first former president to be criminally indicted, and the first to be federally indicted. He is under at least two other criminal investigations.
And beyond every out-of-touch, offensive, or even blatantly wrong thing Trump has said, the former president's legacy is also connected to many of the crises of our time. With disastrous train derailments coming one after another, we are reminded that Trump deregulated the railroad industry and defanged environmental protection agencies. Amid the crash of institutions like Silicon Valley Bank, we are reminded that Trump's own rollback of Obama-era Dodd-Frank regulations helped widen the doors to such a collapse. And amid attacks on basic civil rights, we are reminded that Trump helped ratchet up such viciousness.
Nevertheless, despite all of this—the social disharmony, the material suffering, even just the fact that this all hurts Republicans electorally—scores of Republicans are already endorsing Trump's third consecutive bid for the White House anyways. In basic terms, these Republicans are signing off on, and even encouraging, more of the above.
On Tuesday July 11, all six Michigan House Republicans came out to endorse Trump—members from a state Trump lost by nearly three points, and one that just re-elected a Democratic governor against a Trumpian candidate by nearly eleven points.
The six Michigan Republicans bring Trump's endorsement count to 76.
Here is a list of every member of Congress or governor who has endorsed Trump's 2024 bid for president:
Governor
Senate
Marsha Blackburn (TN)

Ted Budd (NC)

Steve Daines (MT)

Lindsey Graham (SC)

Bill Hagerty (TN)

Cindy Hyde-Smith (MS)

Markwayne Mullin (OK)

Eric Schmitt (MO)

Tommy Tuberville (AL)

J.D. Vance (OH)
House
Brian Babin (TX-36)

Jim Banks (IN-3)

Jack Bergman (MI-1)

Andy Biggs (AZ-5)

Mike Bost (IL-12)

Lauren Boebert (CO-3)

Josh Brecheen (OK-2)

Vern Buchanan (FL-16)

Michael Burgess (TX-26)

Mike Carey (OH-15)

John Carter (TX-31)

Andrew Clyde (GA-9)

Eli Crane (AZ-2)

Mike Collins (GA-10)

Byron Donalds (FL-19)

Pat Fallon (TX-4)

Chuck Fleischmann (TN-3)

Russell Fry (SC-7)

Matt Gaetz (FL-1)

Lance Gooden (TX-5)

Paul Gosar (AZ-9)

Tony Gonzales (TX-23)

Marjorie Taylor Greene (GA-14)

Harriet Hageman (WY)

Diana Harshbarger (TN-1)

Clay Higgins (LA-3)

Richard Hudson (NC-9)

Bill Huizenga (MI-4)

Wesley Hunt (TX-38)

Ronny Jackson (TX-13)

John James (MI-10)

Carlos Giménez (FL-28)

Jim Jordan (OH-4)

John Joyce (PA-13)

Mike Kelly (PA-16)

Anna Paulina Luna (FL-13)

Brian Mast (FL-21)

Lisa McClain (MI-9)

Dan Meuser (PA-9)

Mary Miller (IL-15)

Max Miller (OH-7)

Cory Mills (FL-7)

John Moolenaar (MI-2)

Alex Mooney (WV-2)

Barry Moore (AL-2)

Troy Nehls (TX-22)

Andy Ogles (TN-5)

Scott Perry (PA-10)

Guy Reschenthaler (PA-14)

John Rose (TN-6)

John Rutherford (FL-5)

George Santos (NY-3)

Pete Sessions (TX-17)

Elise Stefanik (NY-21)

Greg Steube (FL-17)

Dale Strong (AL-5)

William Timmons (SC-4)

Jeff Van Drew (NJ-2)

Beth Van Duyne (TX-24)

Tim Walberg (MI-5)

Michael Waltz (FL-6)

Randy Weber (TX-14)

Daniel Webster (FL-11)

Roger Williams (TX-25)

Joe Wilson (SC-2)
This story was last updated on July 11.