Expelled Lawmaker Justin Pearson Reappointed to Tennessee House
Now, both Democratic lawmakers expelled over their gun control protest are back in the legislature.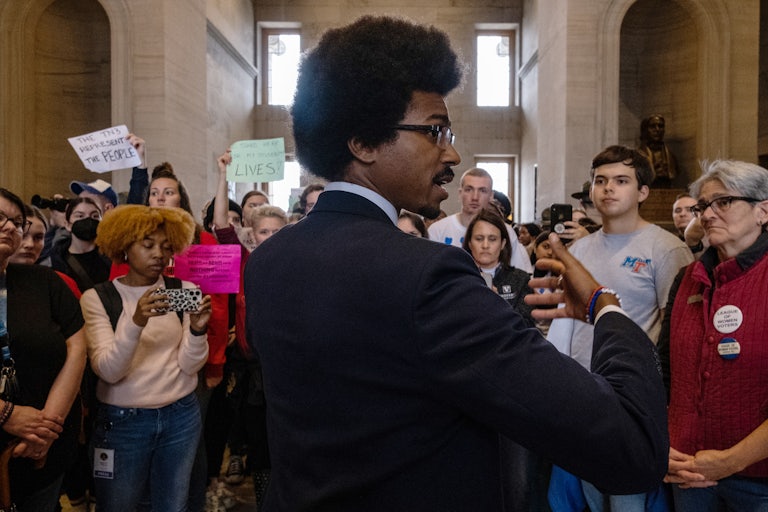 Seth Herald/Getty Images
Democratic state Representative Justin Pearson of Memphis speaks with supporters after being expelled from the state legislature on April 6.
It's been less than a week since Tennessee Republicans expelled Democratic Representatives Justin Jones and Justin Pearson from the House. The Nashville Metro Council reappointed Jones on Monday, having the Democrat miss not even a moment of House business. And now, two days later, the Shelby County Commission has voted to send Pearson back along with him.

On Wednesday, the Shelby County Commission voted 7–0 to send Pearson back to represent the constituents who already elected him. The 13-member commission is made up of nine Democrats and four Republicans; only seven members were present for the vote, all Democrats.
Jones, Pearson, and their colleague Gloria Johnson were targeted by House Republicans last week in wake of the Nashville school shooting that left three children and three adults dead. The three Democrats were repeatedly silenced by Republican leaders, including House Speaker Cameron Sexton, as they tried to speak on the issue of gun violence. Finally, in solidarity with thousands of children, teachers, parents, and other residents protesting against gun violence outside the state Capitol, the trio interrupted House proceedings. The Republicans then led an effort to expel the three on grounds that they had broken "decorum."
Johnson, who is white, survived an expulsion by just one vote. But Jones and Pearson, who are both Black, were expelled.
Other members with more severe offenses, such as child molestation, have not been expelled or charged with breaches of decorum in the same fashion the three Democrats were. Another member, Justin Lafferty, who once defended the three-fifths compromise, assaulted Jones on the House floor while Republicans advanced the expulsion votes. Lafferty was not found to be breaching decorum.
Both Jones's and Pearson's seats will still have special elections in the coming months, and both have expressed their plans to run and officially retake their seats.
Despite Jones's and Pearson's return, and massive public pressure both state- and nationwide, Republicans have still reportedly been trying to find a way to impose their anti-democratic desires on the process. Republican state lawmakers have allegedly been toying with taking away government funding for Memphis projects if Pearson is reappointed. The funds specifically are reported to have been set aside for schools and sports stadiums, like NBA team Memphis Grizzlies' FedExForum or the University of Memphis's Simmons Bank Liberty Stadium.
Attorneys representing Jones and Pearson sent a letter to Sexton on Monday, however, warning Republicans of potential constitutional violations if they dig in their heels.
"The world is watching Tennessee," they wrote. "Any partisan retributive action, such as discriminatory treatment of elected officials, or threats or actions to withhold funding for government programs, would constitute further unconstitutional action that would require redress."