Florida Passes Bill to Protect Billionaires if Their Exploding Rockets Kill People
Florida lawmakers have some good news for Elon Musk and Jeff Bezos.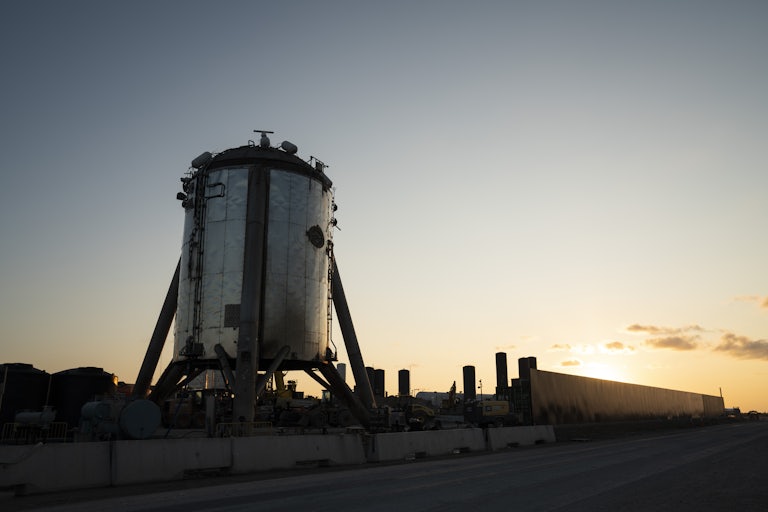 Veronica G. Cardenas/Bloomberg/Getty Images
The SpaceX South Texas launch site in Boca Chica Village in Brownsville, Texas, on September 26, 2020
Millions throughout America are trying alternative diets: plant-based, paleo, low carb. And now there's a new group of people whose meals mainly consist of boots: practically the entire Florida legislature.
Florida lawmakers, on both sides of the aisle, have sent a bill to Governor Ron DeSantis that would expand legal immunities to protect private space companies like Elon Musk's SpaceX or Jeff Bezos's Blue Origin when workers suffer injuries or even die. The Spaceflight Entity Liability Bill broadens when space companies are exempted "from liability for injury to or death of a crew resulting from spaceflight activities."
Florida's move to expand liability protections comes as billionaires' rockets keep exploding and more and more private companies are taking wealthy passengers on interstellar adventures. An analysis by the Florida state Senate admits outright what the entire point of the legislation is: "This bill has the potential to limit the cost of litigation to businesses engaging in spaceflight activities."
The bill mandates "crew" and participants alike fill out a waiver that grants legal immunities to space companies in cases of injury or death.
It also expands the definition of "spaceflight entity" to include any entity authorized to conduct spaceflight activities, beyond ones that are solely associated with the United States Federal Aviation Administration. It cuts out language ascribing liability to spaceflight entities for damage caused from "inherent risks" of spaceflight activity; instead, the bill broadens the scope of liability immunity to include all spaceflight activities.
Moreover, the bill amends language that orders entities to be liable for injury if they had actual knowledge, or reasonably should have known, of risks. The new language only orders legal liability for "actual knowledge" of risks, meaning there is no longer any expectation for companies to be responsible for damages from risks they "reasonably should have known" about.
The bill passed the state Senate 39–0 and the state House 107–5. The overwhelmingly bipartisan move to grant special legal protections to bloated companies run by some of the richest people in the world is mirrored by how much these entities donate to politicians of both parties.
Musk's SpaceX has spent some $8 million in lobbying efforts since 2020 and donated another $1 million to members of both parties during the 2022 election cycle alone. Bezos's Blue Origin has spent some $6.3 million in lobbying efforts since 2020, while sending just over half a million dollars to members of both parties during 2022.